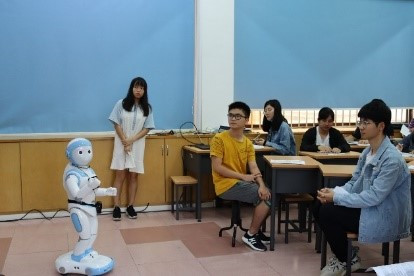 Speaking in a clear voice and using standard language, Hua Jun, the AI teacher was able to interact with students freely and politely in a special class, where the robot took the main role, while the human teacher acted as an assistant.
The setting is a teaching observation activity, featuring an AI teacher, invented by AvatarMind from Nanjing and further developed by SCNU, held at the School of Education of SCNU, demonstrating a new application of AI teaching.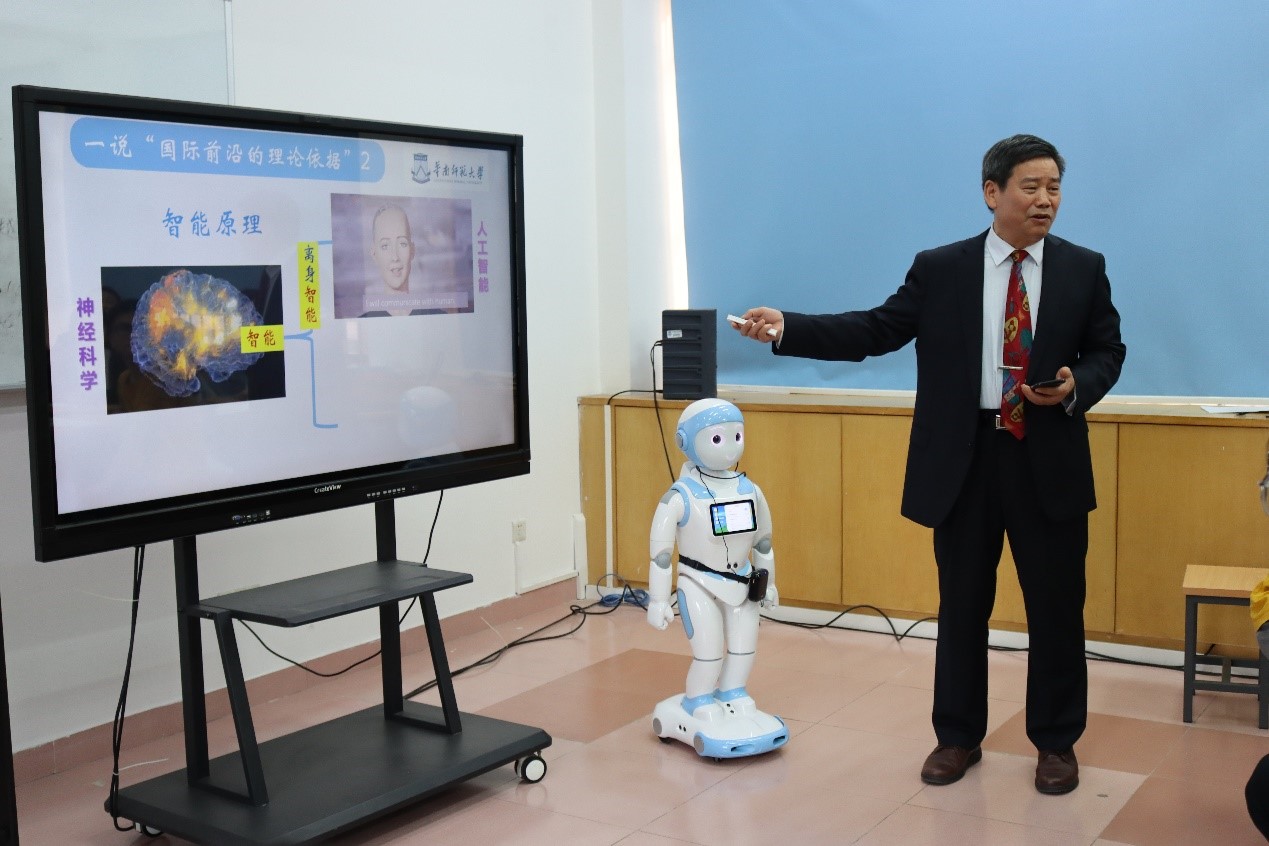 The IPAL Robot and Professor Huang Fuquan
Based on the successful teaching demonstration, Huang Fuquan, Professor of the School of Education shared the new achievement and exploration from his team in AI education – the further development and application of AI general teacher.
Huang explained that by implanting reference systems such as famous teacher teaching data, new theory of teaching, big data on teaching and so on, the team created a dual-teacher teaching class of an AI teacher and a human assistant. In this way, human teachers would be able to transform from class leaders to organizers, observers, and innovators, promoting the integration of students' autonomous learning and classroom resources for real, he added.
After the observation, some experts and experienced front-line teachers provided additional constructive suggestions. Xu Xiangyang, deputy editor of The Journal of Moral Education for Primary and Secondary School, put forward a topic of "how humans high-light their own value in the advent of AI", which is thought-provoking.
"The ideal double-teacher classroom has the characteristics of integration, which requires human teachers to deepen the moral significance and value embodied in moral knowledge while AI teachers impart basic knowledge" Xie Guangling, editorial director of the journal said.
From the perspective of ethics and law curriculum development, Mao Weina, deputy director of the editorial department recommended: "we should introduce an experienced research team to participate in the compilation of teaching scripts and then clarify how the moral education process in the classroom occurs based on the principles of neuroscience."
The participants in the teaching observation activity
Professor Huang and his teacher-student research team have taken the lead in conducting trans-disciplinary research on the integration of pedagogy, AI and neuroscience in China. At the same time, they also cooperate with primary and secondary schools to innovate and develop new intelligent courses and teaching models.
This special class delivered by the AI teacher, shows possible ways of innovative course development and lays the foundation for future improvement of education and AI laboratory development at SCNU, and the intelligent course design of morality and law.
---
Source from the School of Education
Translated by Yang Yi, Lin Zihao
Proofread by Edwin Baak
Edited by Li Jianru
What to read next: