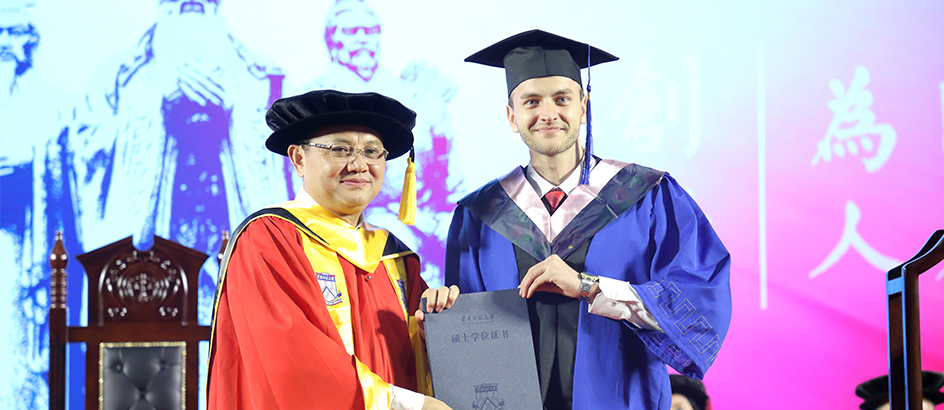 From June 25 to 30, the 2019 South China Normal University Commencements were held on three campuses, lasting for 5 days, consisting of 13 sessions. 5,863 undergraduate and 2,995 postgraduate students opened a new stage in their life with the encouragement and blessing of SCNU.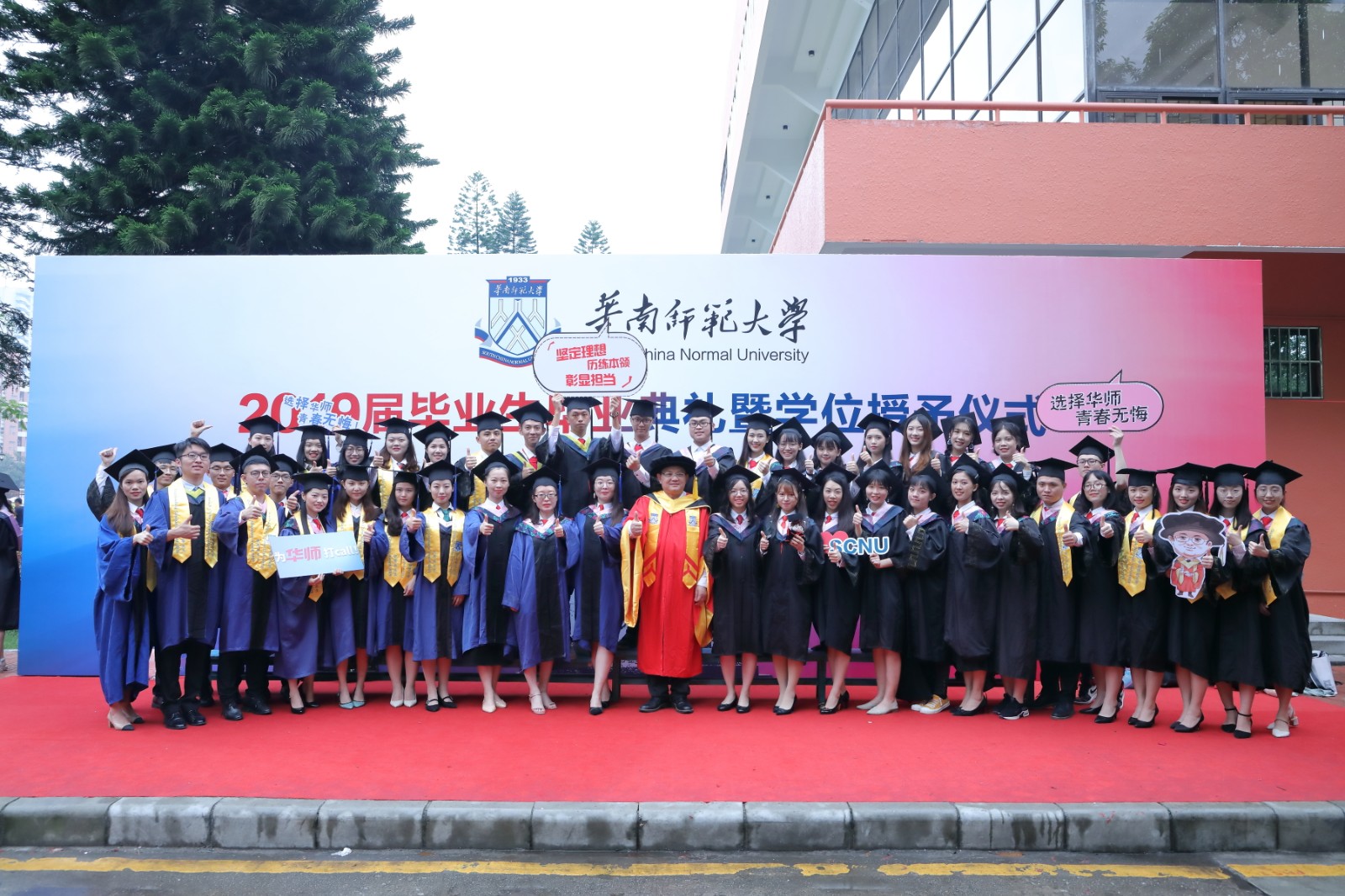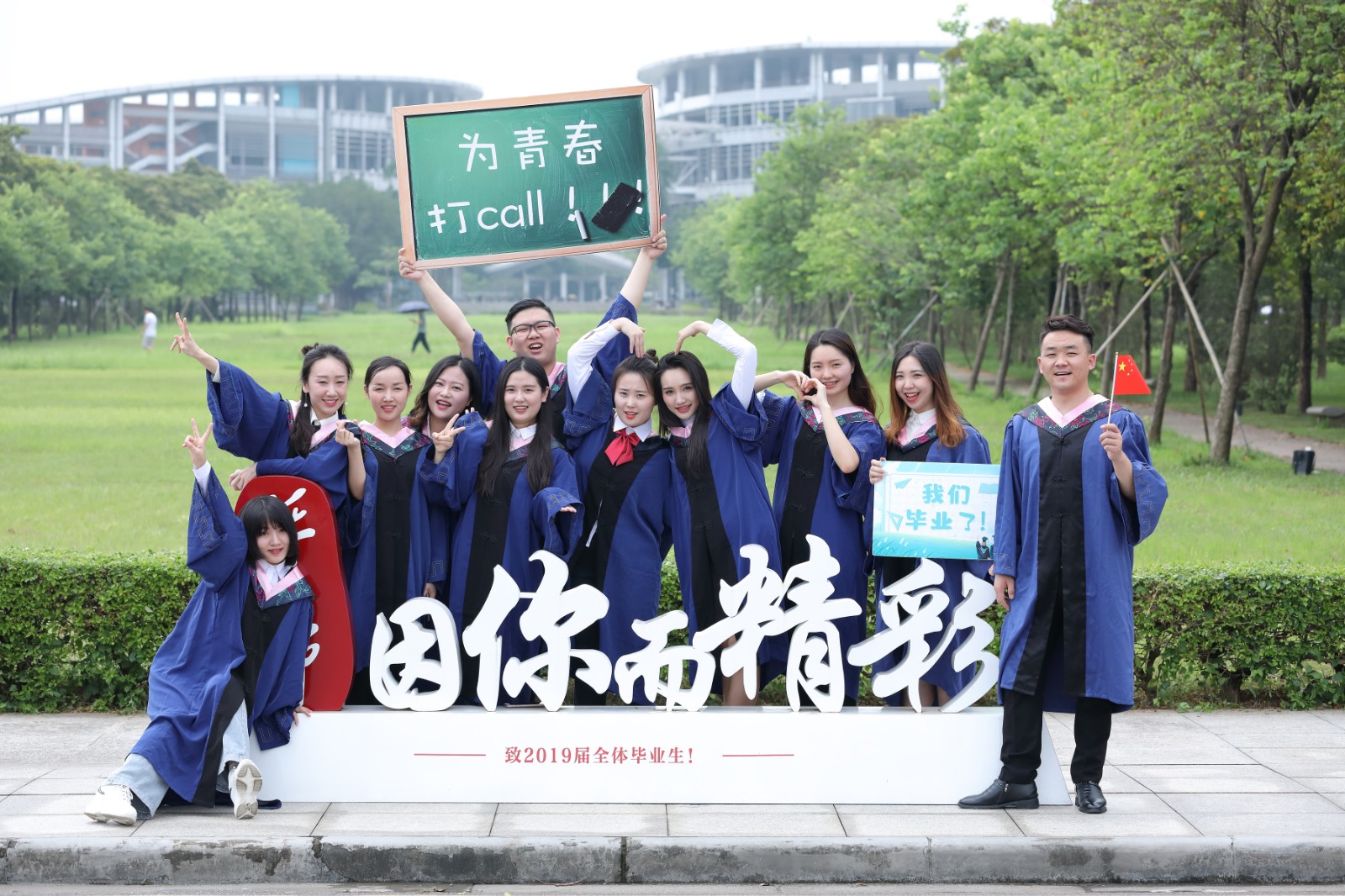 President Wang Enke, vice-president Shen Wenhuai, Wu Jian, Ma Weihua, Chen Wenhai, vice-president of the Academic Committee Wang Xiaojing, and member Yang Chengwei, presided over the ceremony respectively. Delegates of relevant departments, the party secretaries of different schools, representatives of both lecturers, alumni, and assistants, as well as 2019 graduates took part in the ceremony.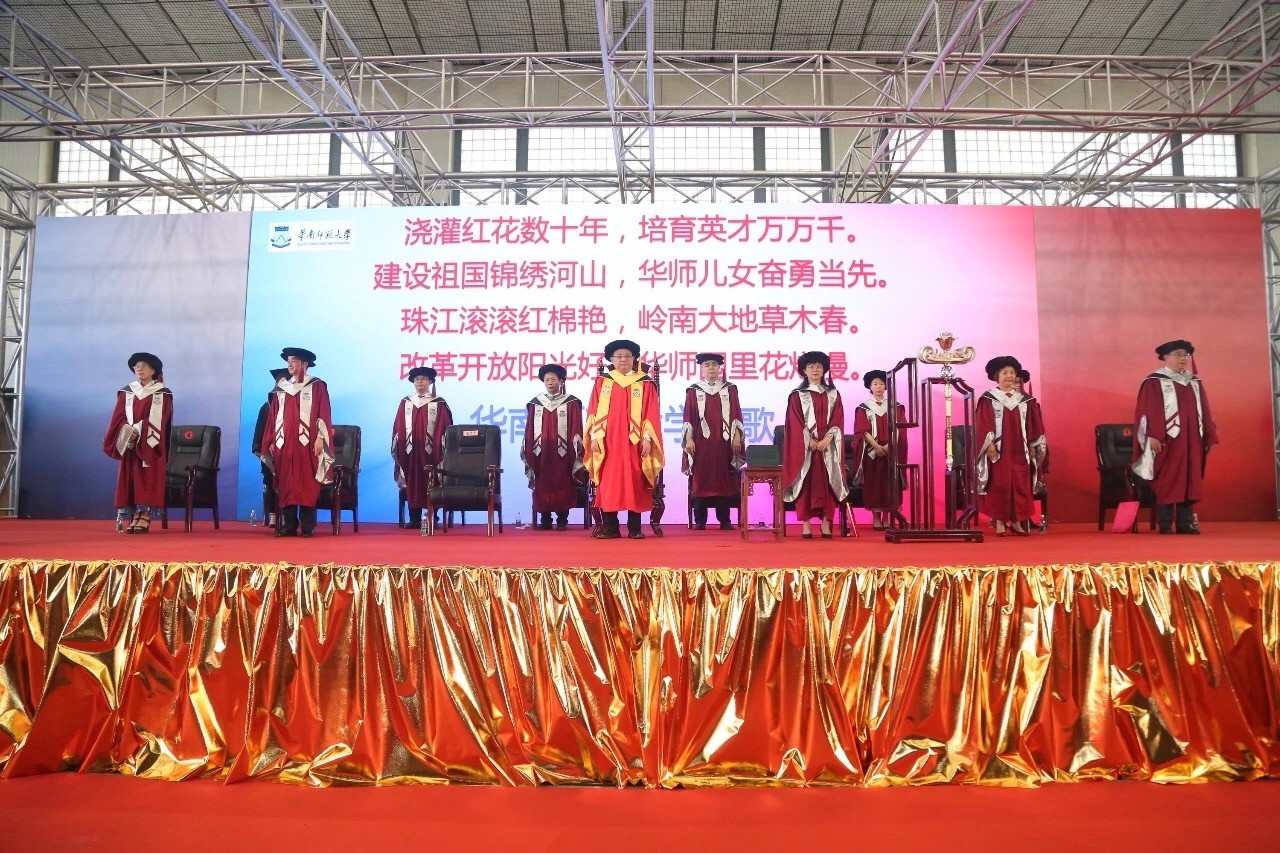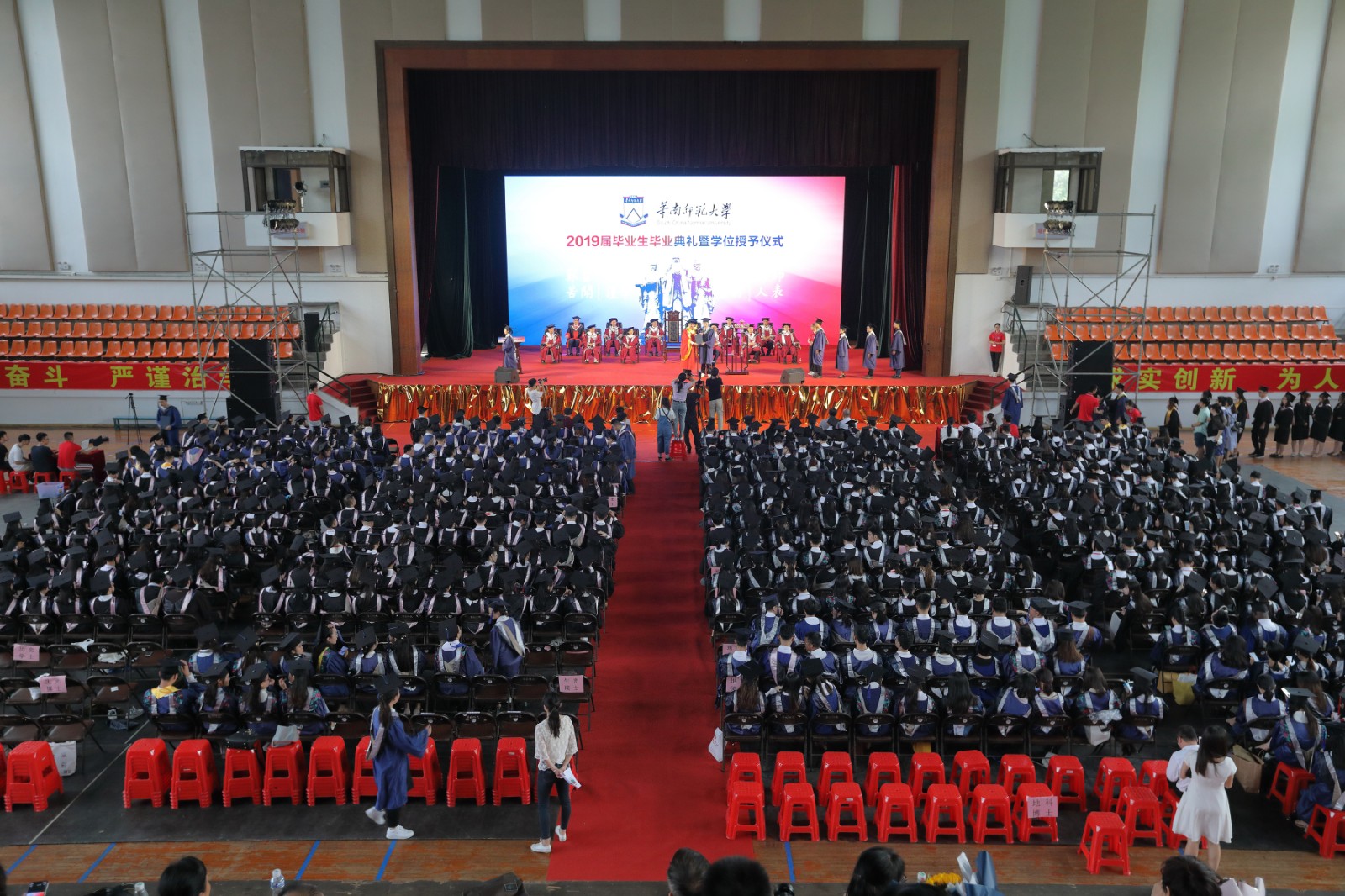 This year, the academic scepter made its debut. As a symbol of the highest academic power of a university, it represents the sublimity and sanctity of knowledge. The top of the scepter is inlaid with a big diamond, implying that SCNU was listed as a constructive faculty for the "World-class Discipline Construction" in China, which indicates SCNU enjoys a bright future and will encourage us to unremittingly practise self-improvement.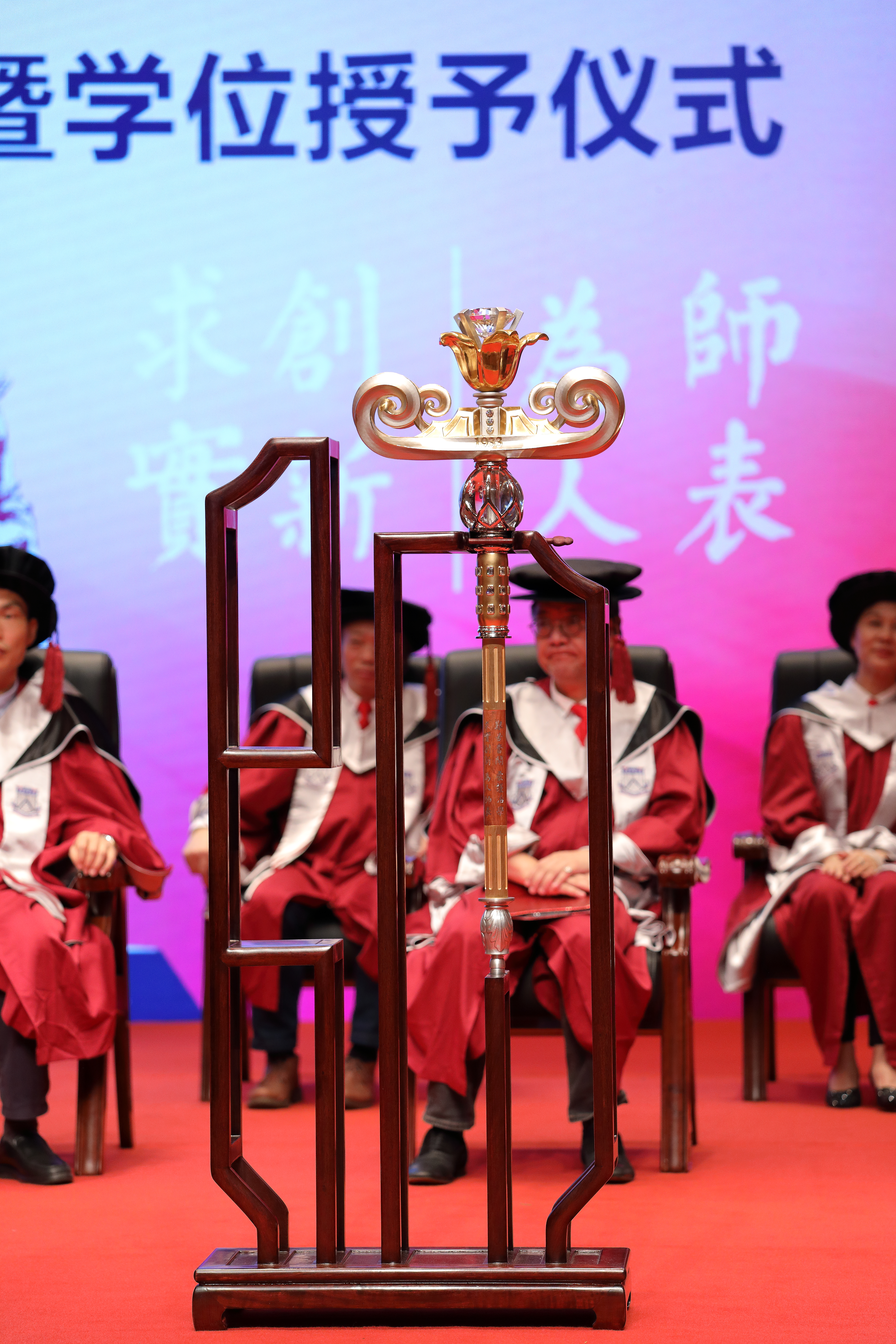 Surrounded by elegant music and attention of the whole stadium, the presiding professors walked in solemnly, following the scepter.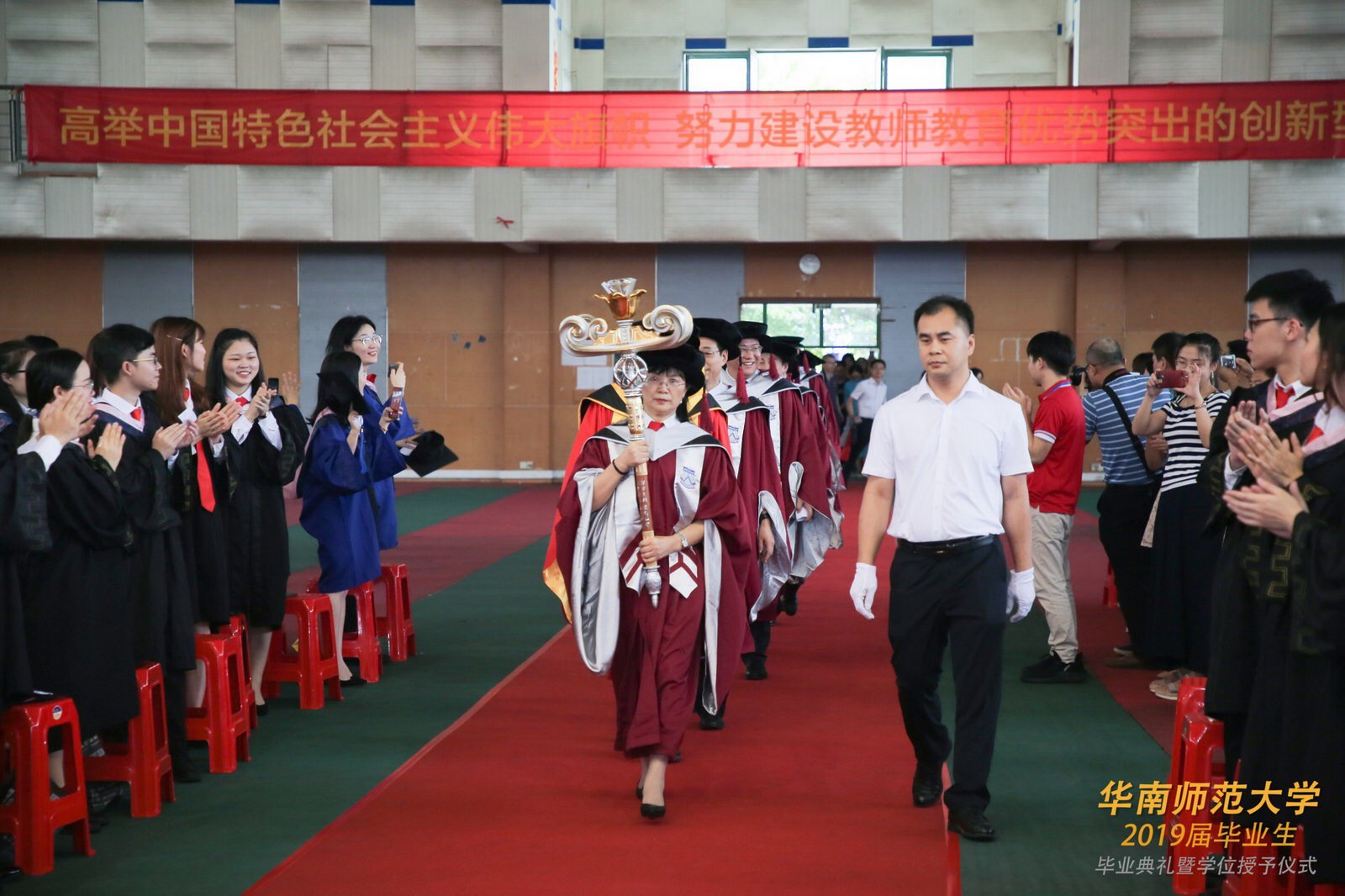 As everyone got seated, president Wang Enke made a keynote speech, in which he sent his warmest congratulations to all graduates. "No matter where you are, as a student of SCNU, you need to keep our motto in mind. When facing difficulties, try to work harder and never give up. Pursue truth with rigorous scholarship.Build your future with the power of innovation. Never forget your initial goals. Keep in pace with the times and vigorously promote social development," he encouraged them to vigorously develop the spirit of perseverance, determination, stamina and innovation. Later he declared the award list of 100 outstanding undergraduates of the class of 2019, as well as the winner of the "Zeng Yongyu Scholarship" for graduating students.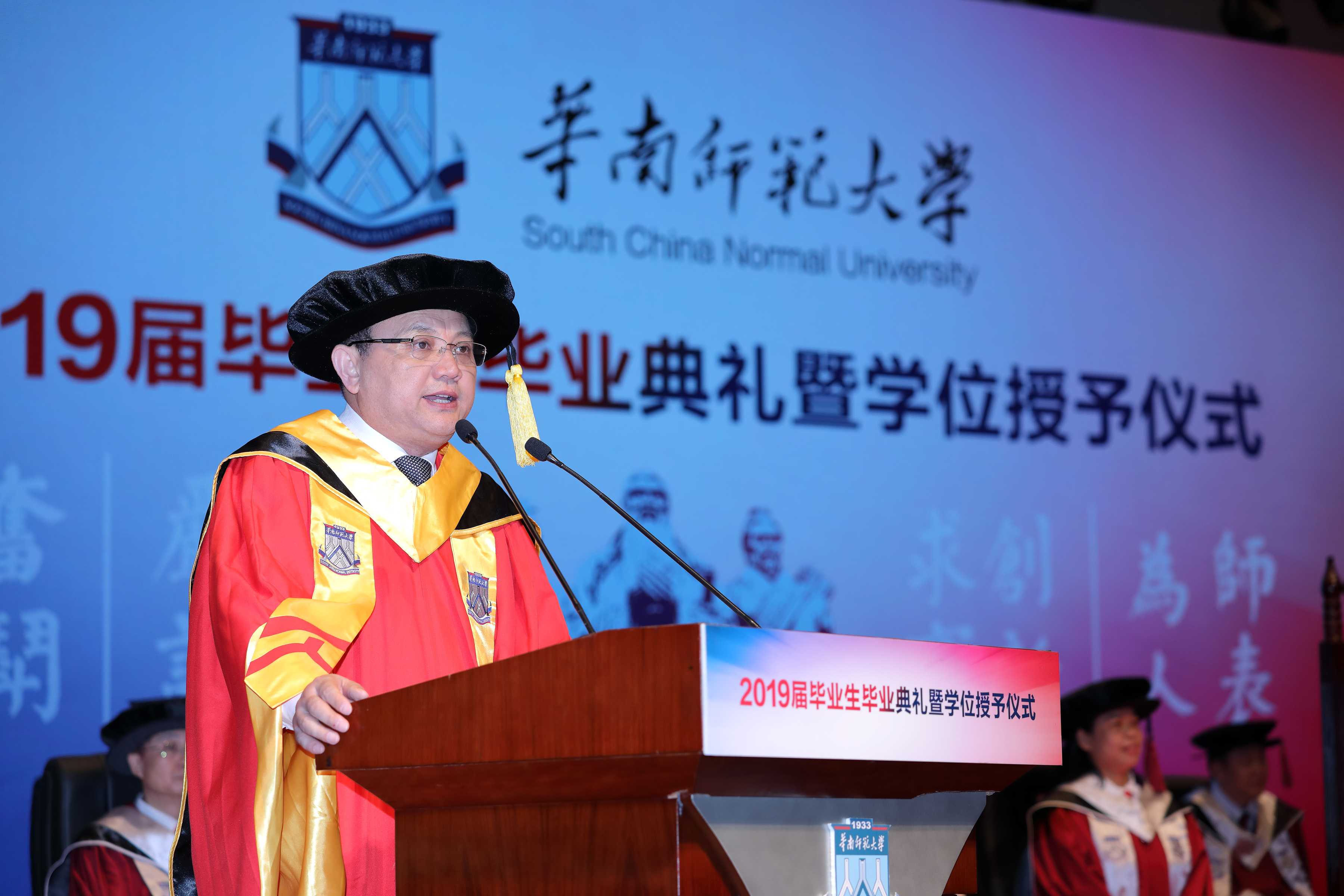 During the degree awarding ceremony, president Wang slid the tassel for every graduate and presented them with their dilpomas. In total he conferred degrees to nearly 9000 graduates.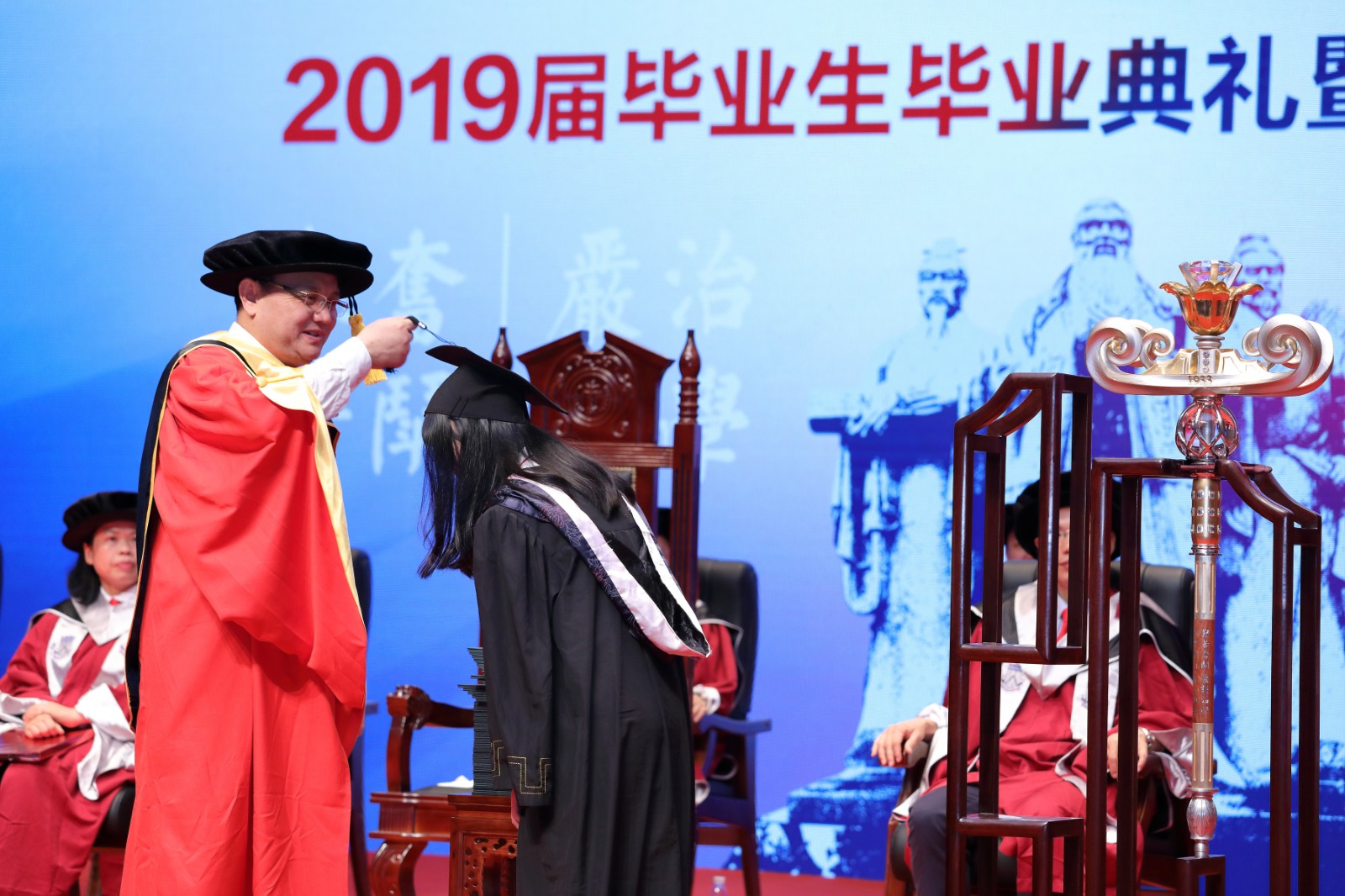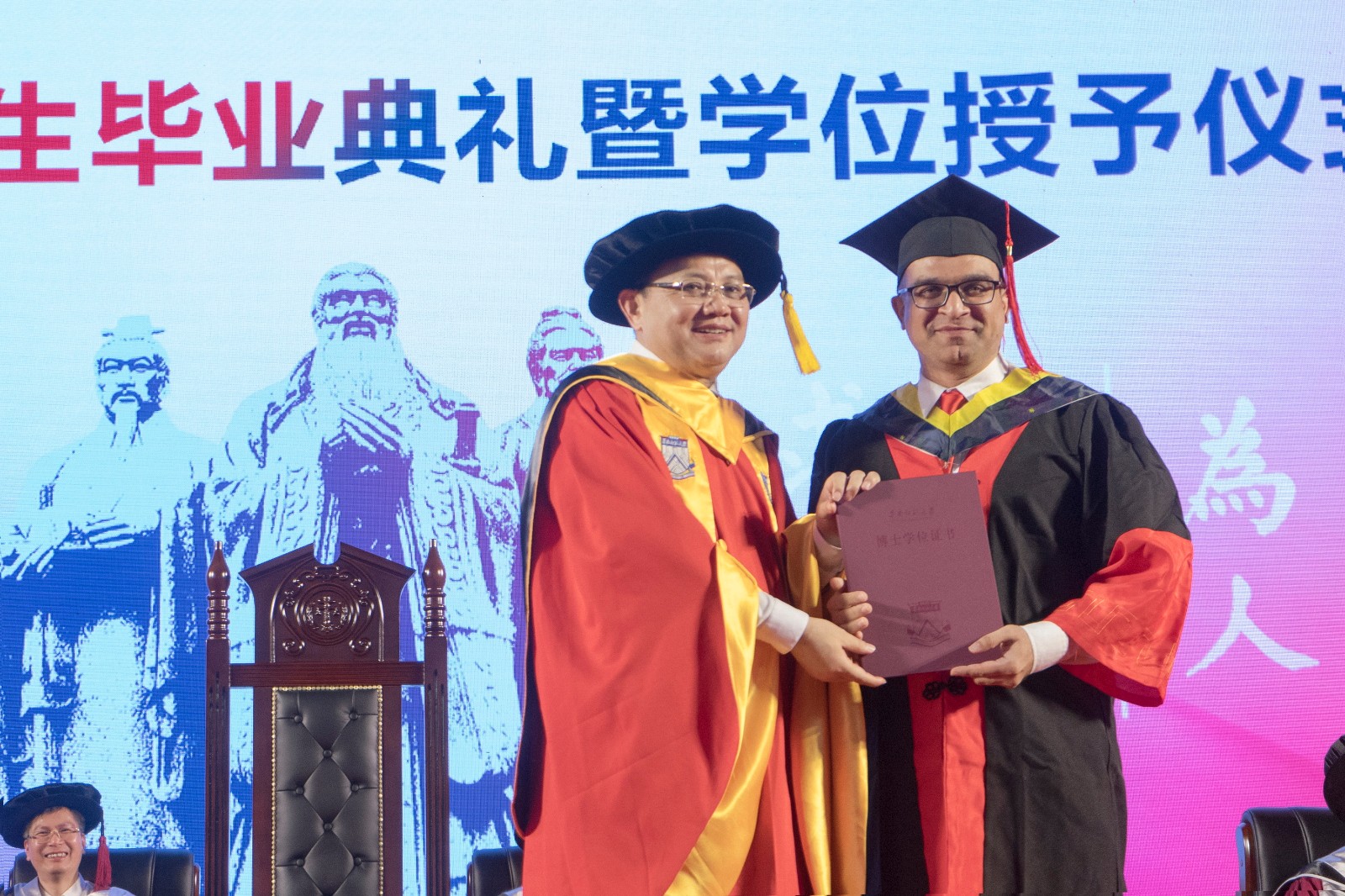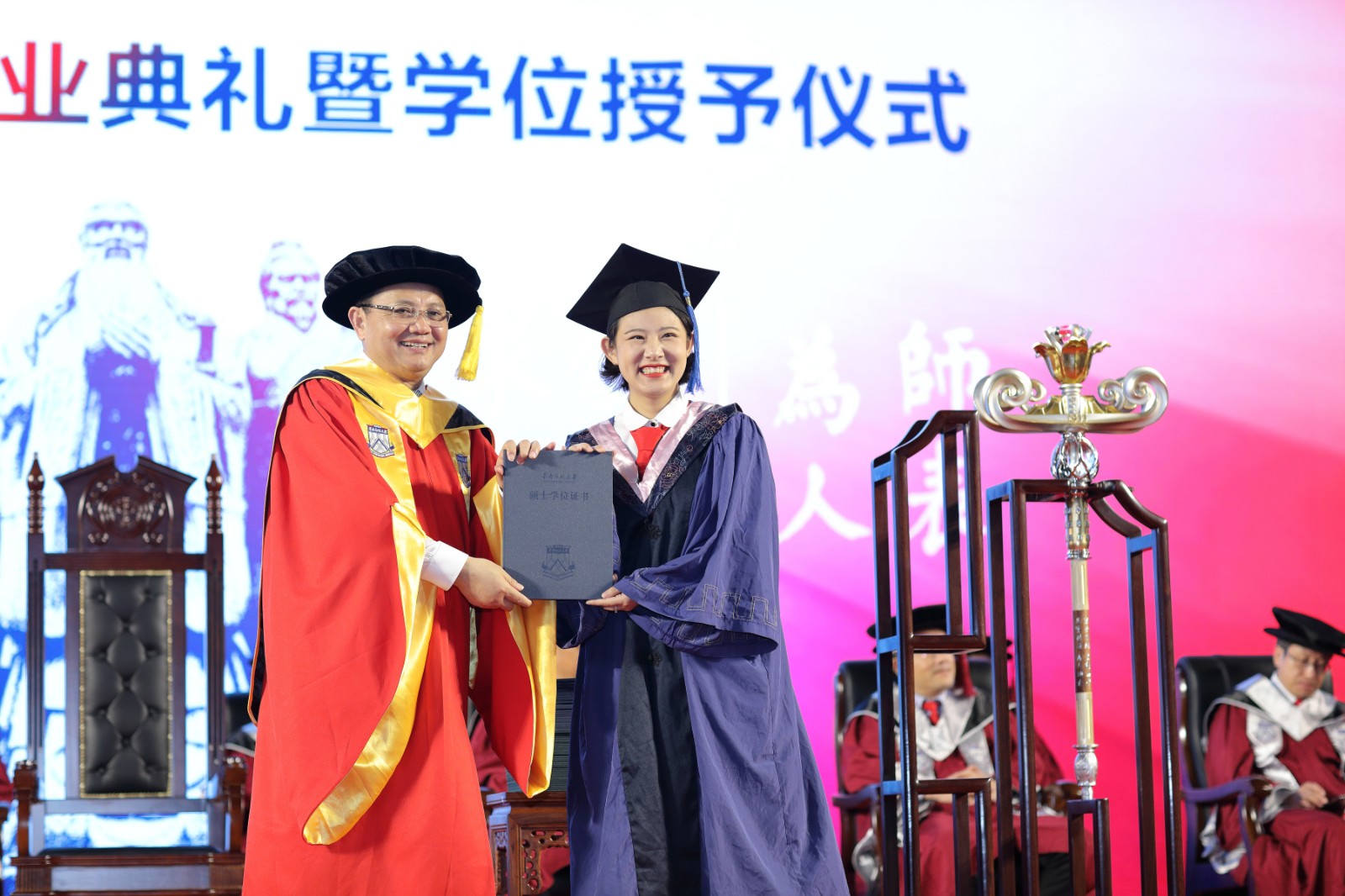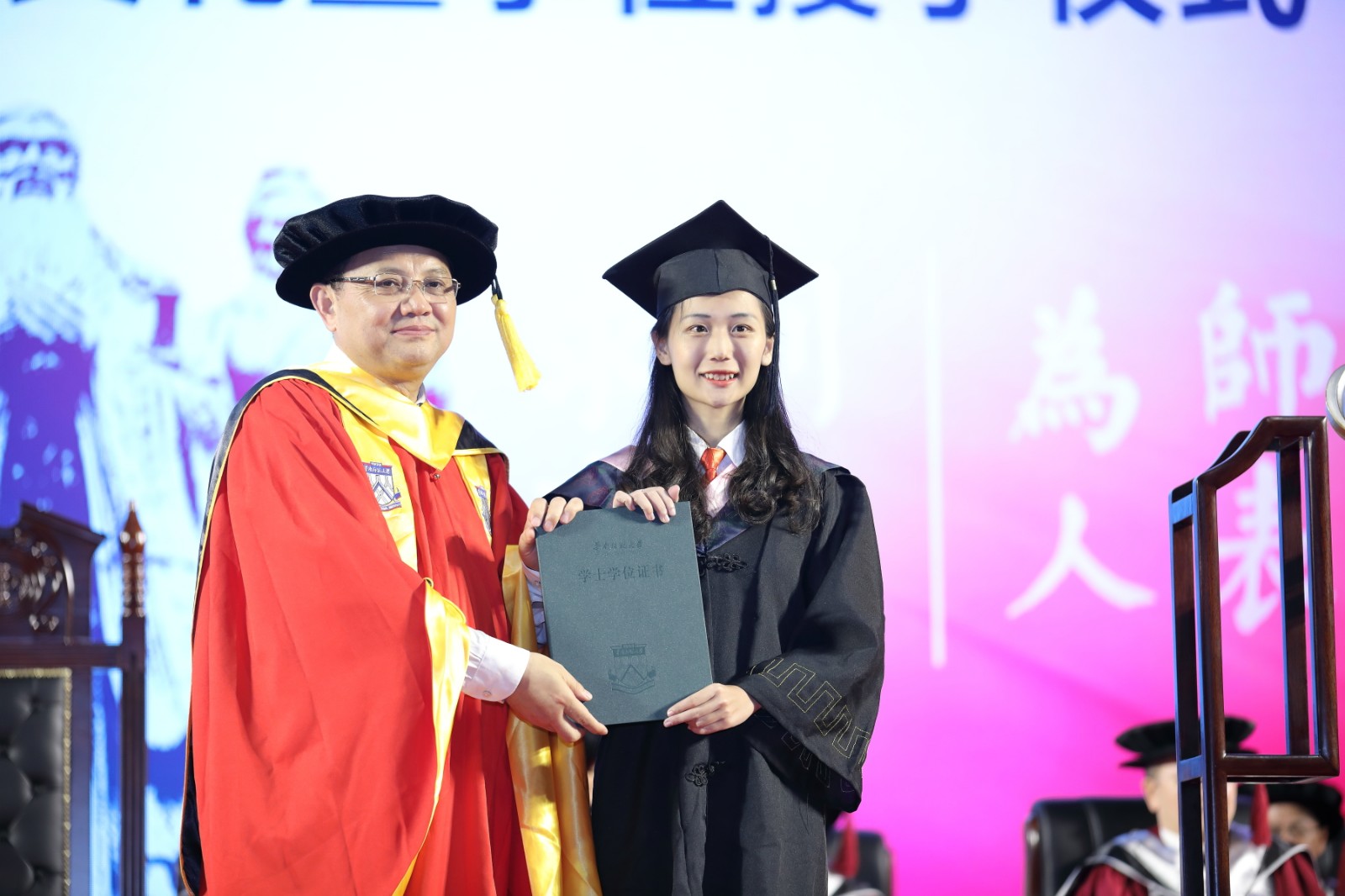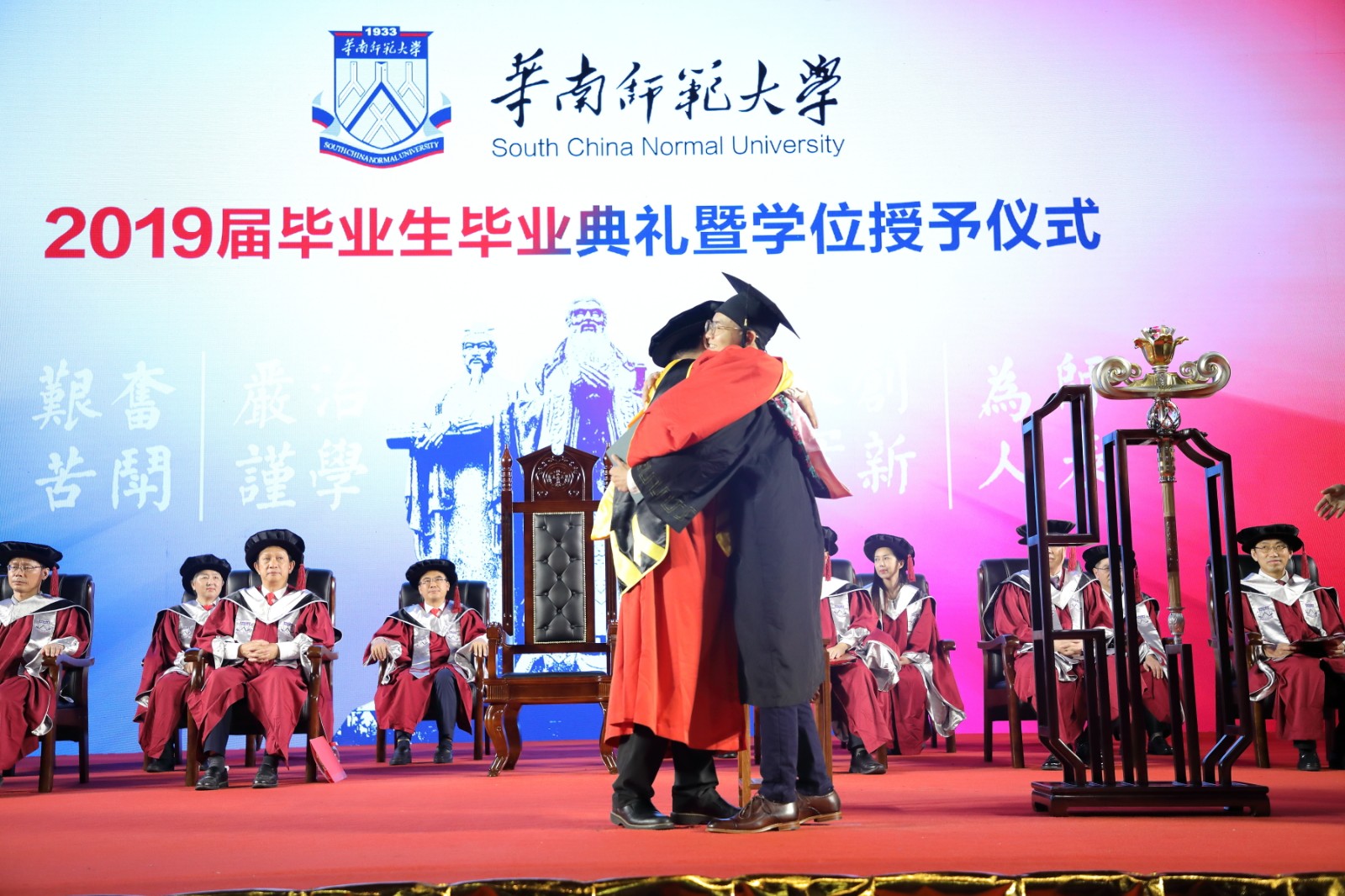 Representatives of alumni were also invited to the graduation ceremony. Among them, there are college scholars and experts, teachers who are rooted in basic education, business executives in the business sector, entrepreneurial pioneers, and young alumni who are pursuing doctoral degrees at prestigious universities. All of them shared the wisdom of integrating the school motto intostudy and work. The graduates who are about to embark on a new stage of life, were inspired not to forget their original ideals in realizing dreams, and to move on the road ahead with their will unbent.
Alumni representative Entrepreneur Ke Zongqing made a speech.
In celebration of the upcoming 70th birthday of the People's Republic of China, a flash mob activity titled "Me and My Country" was performed by teachers and graduating students at the end of the ceremony. "The atmosphere on the scene was excellent. We felt a strong sense of patriotism." Graduates of the Conservatory of Music, Zhang Yi and Xu Jihui, were pleasantly surprised by the flash performance. As all the students and teachers sang out loud and waved their hand flags, the atmosphere reached to a climax.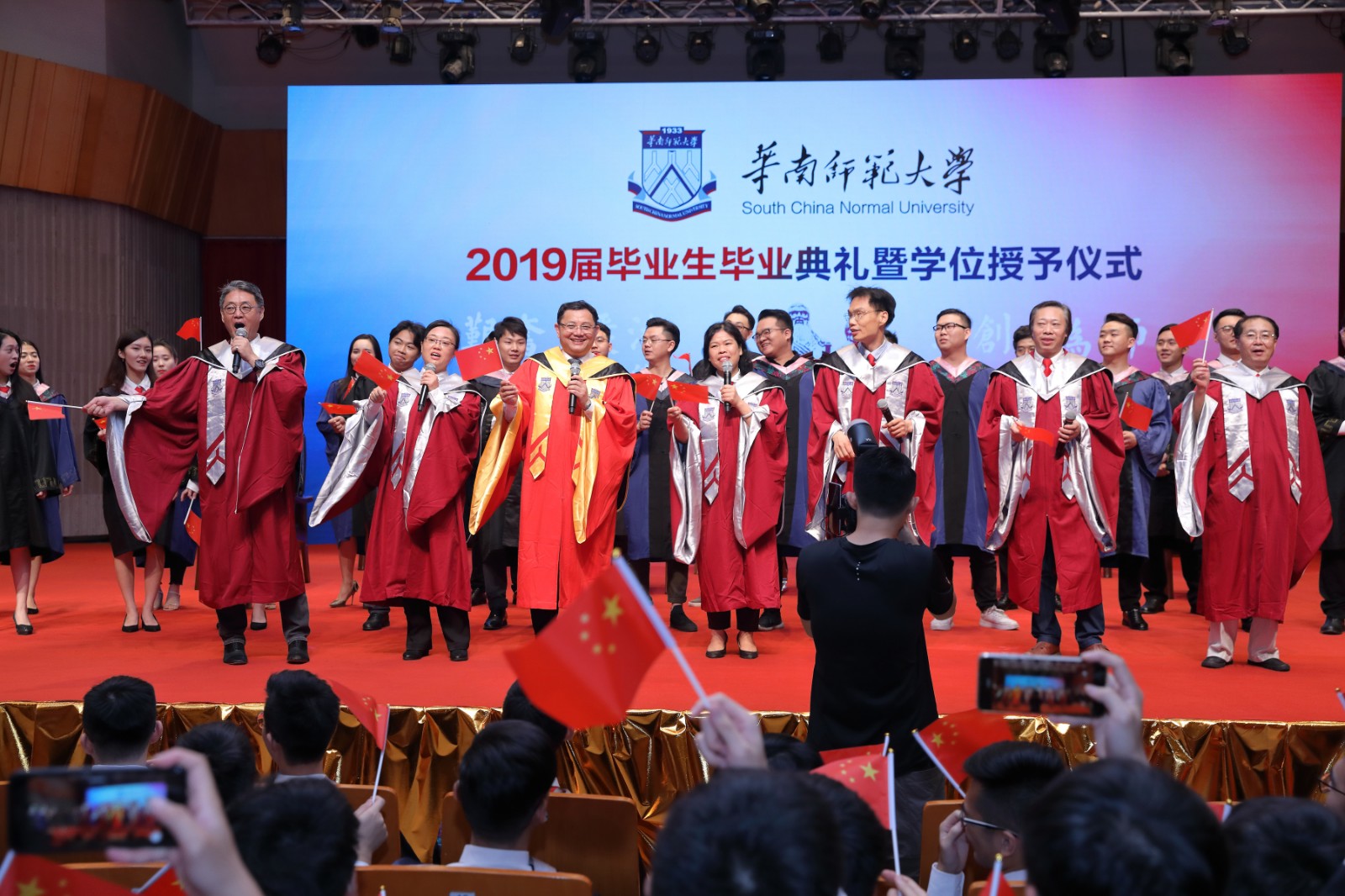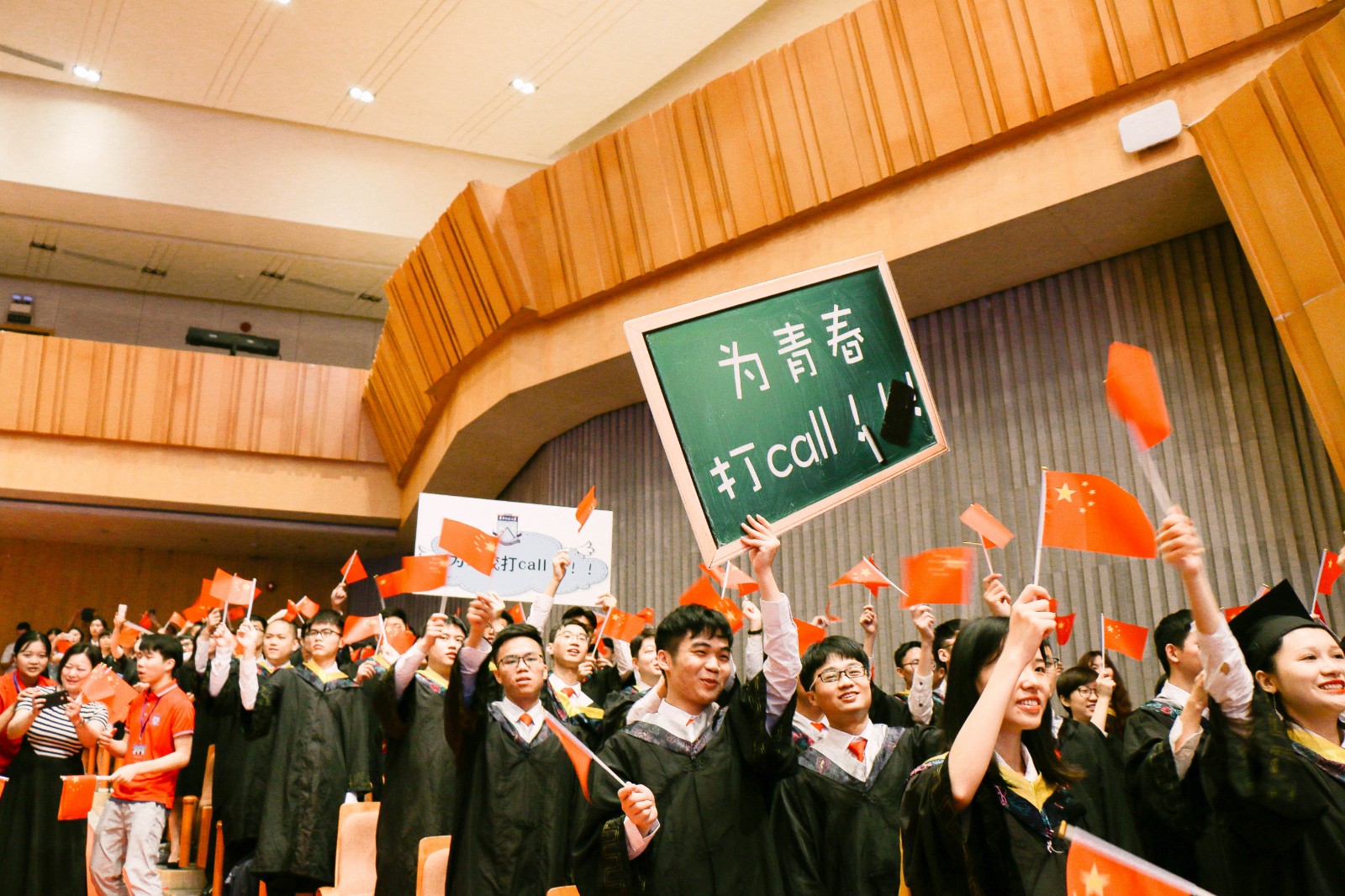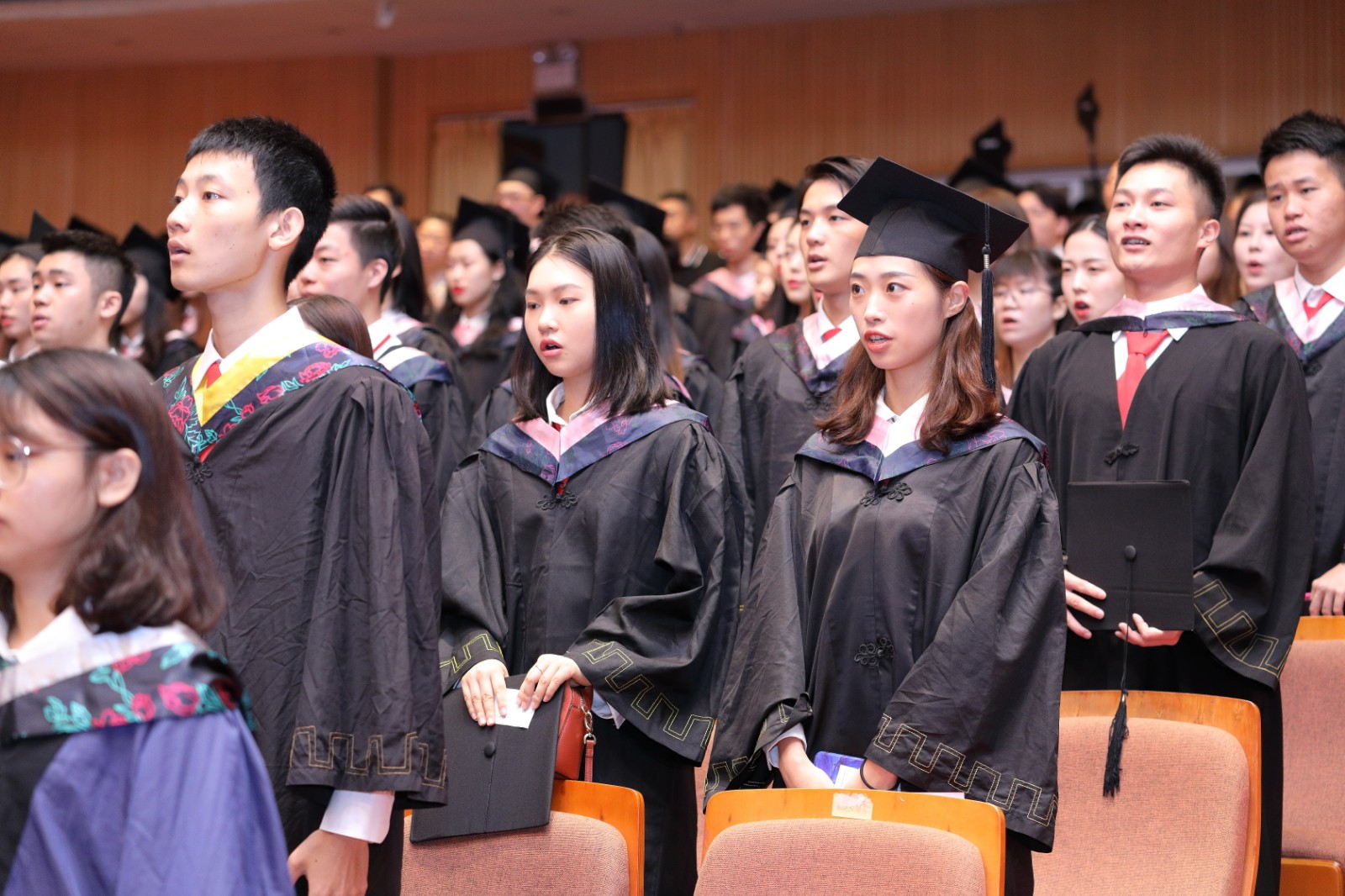 To enable a larger audience to watch the ceremony and feel the atmosphere, SCNU made an innovation to broadcast live during the graduation ceremony.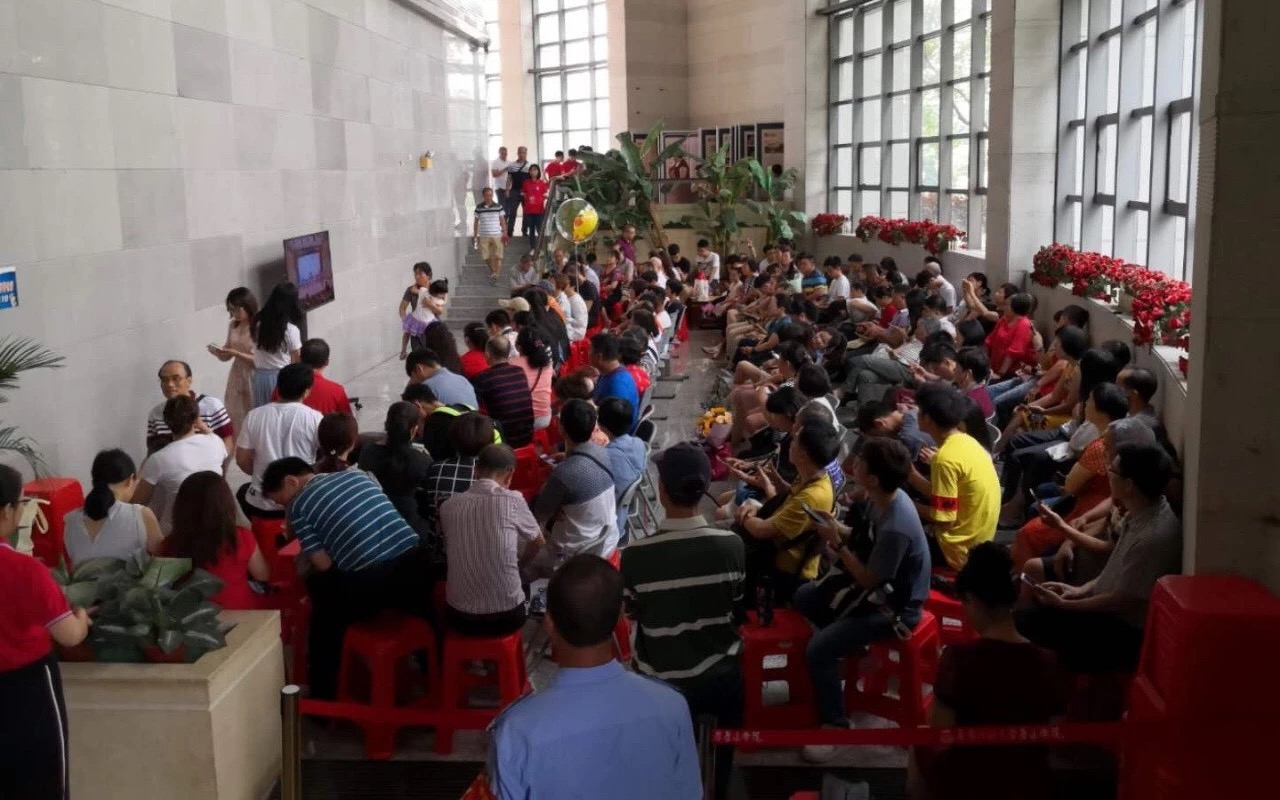 Gratitude and Love for SCNU

"I am grateful to SCNU for giving us such a wonderful four-year time at college," Ms. Peng, who came to attend her daughter's graduation from Changsha, said with a smile.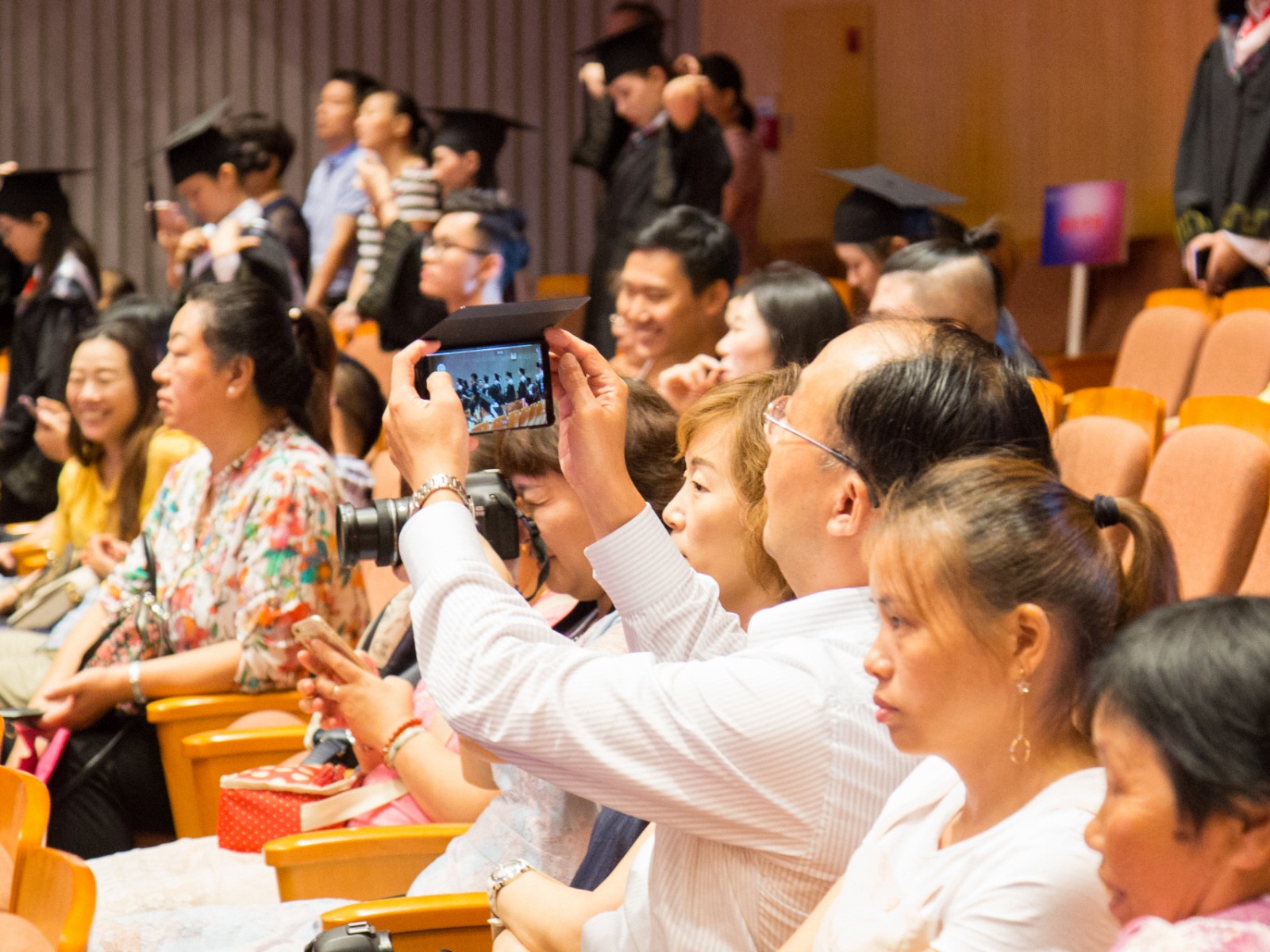 Lin Taomei and Zhang Weijun, master's degree graduates from the College of Arts, took a precious photo with President Wang. Speaking of the most unforgettable moment, Lin Taomei happily raised her left hand, showing her ring. Three days before the graduation ceremony, Zhang Weijun had proposed to Lin Taomei. "We want to stay together for our whole lives. We also hope our wedding photos can be taken on the campus of SCNU!"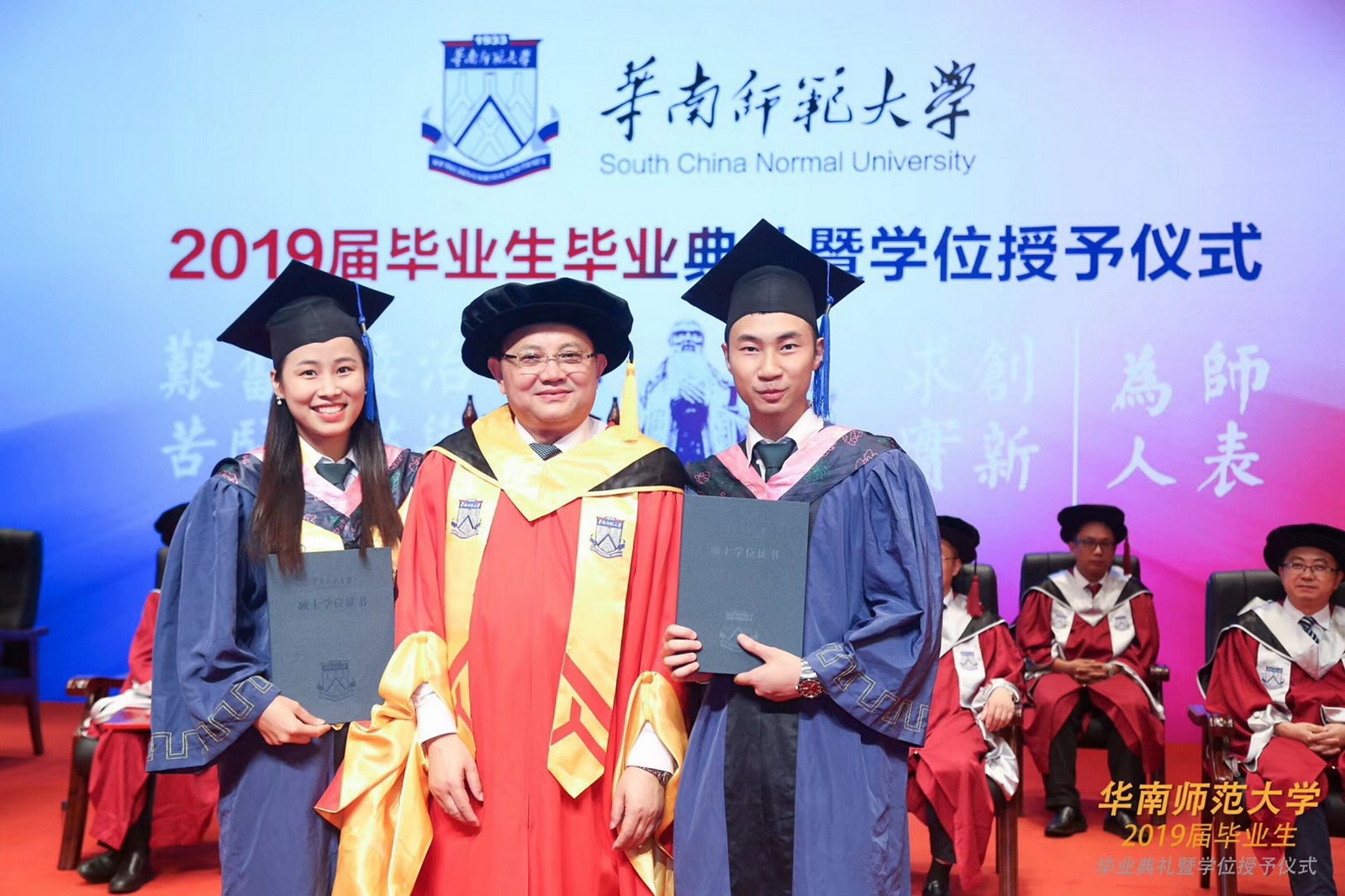 Zhuo Xingyan is an Indonesian master of the College of International Culture. Before she came to SCNU, she had already made a determination to stay here for further study, "Studying at SCNU makes me very happy! Everything makes me very happy. I don't want to leave here!" She was so happy that her family could attend her graduation ceremony.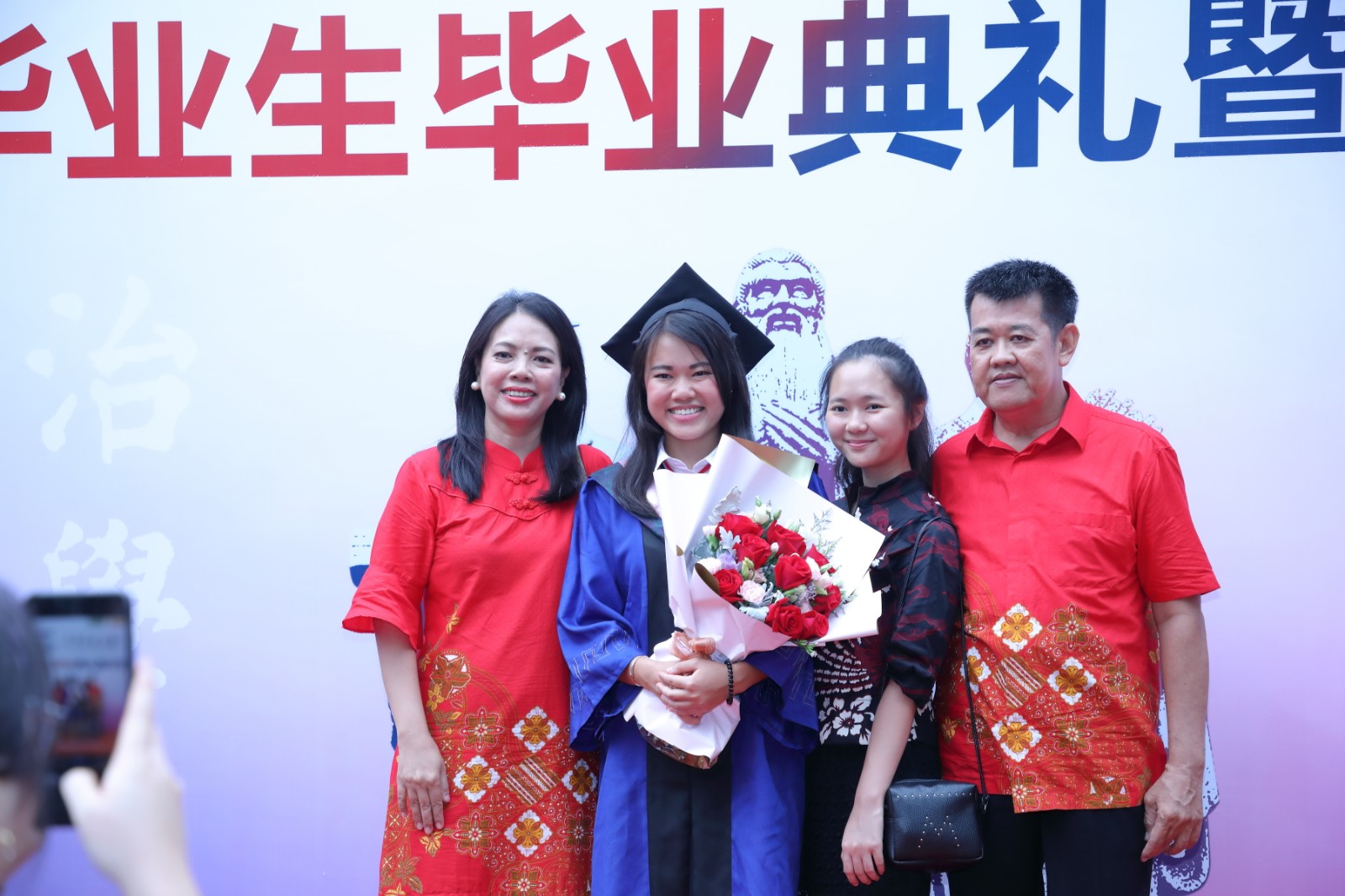 Peter from Spain got a master's degree from SCNU. He has an adorable Chinese name -- Shi Lei. "My Chinese name is composed of four identical characters which all mean "stone" in English, because I want to be as strong and tough as a stone. This is what I learned from the motto of SCNU." He said it was the first time that he had attended such a ceremony, and he was very excited and moved. Like Zhuo, Peter also plans to stay and work in Guangzhou.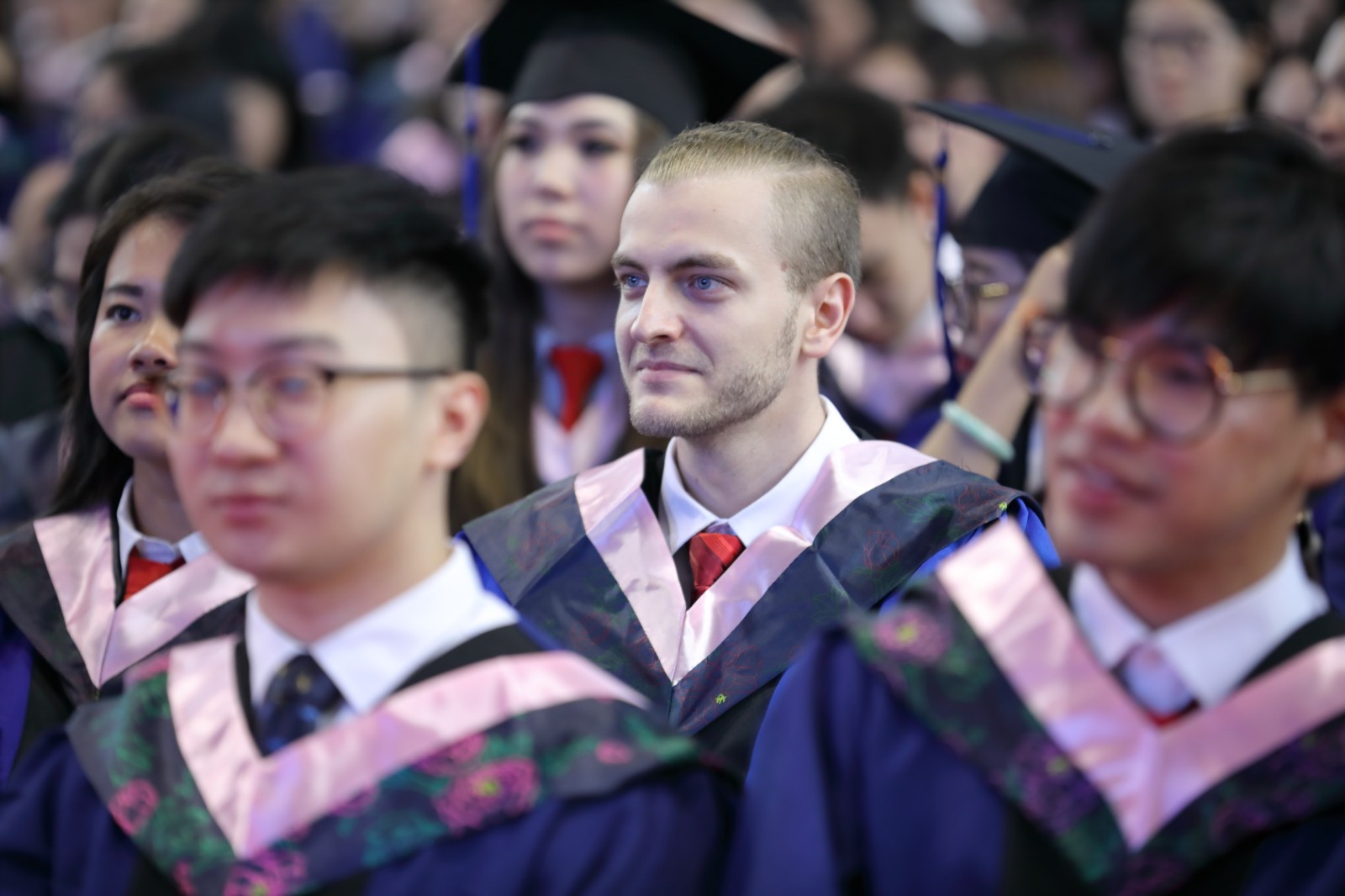 Congratulation, Class of 2019! Here's the short film Start Again specailly dedicated to all of you. May you always keep the motto of SCNU in mind, and create a bright future!

---
Written by Tan Yanping
Proofread by Edwin Baak
Edited and reviewed by Li Jianru
What to read next: