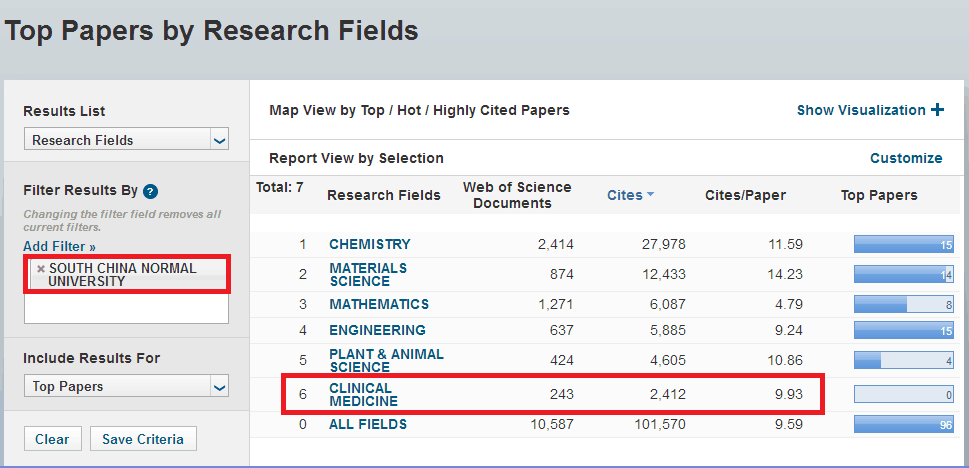 According to the latest result of the ESI (Essential Science Indicators) database released by Clarivate Analytics on November 16, the discipline"Clinical Medicine"of SCNU achieved a historic breakthrough, ranking globally among the top 1% of ESI for the first time. It is another leap after disciplines "Material Science" entered the top 1% of the global ESI in January 2017, marking significant progress in the discipline construction of the school and a new level of school-running. So far, the school has a total of 6 disciplines ranking the world's top 1%, namely, Chemistry, Mathematics, Engineering, Botany and Zoology, Material Science, and Clinical Medicine.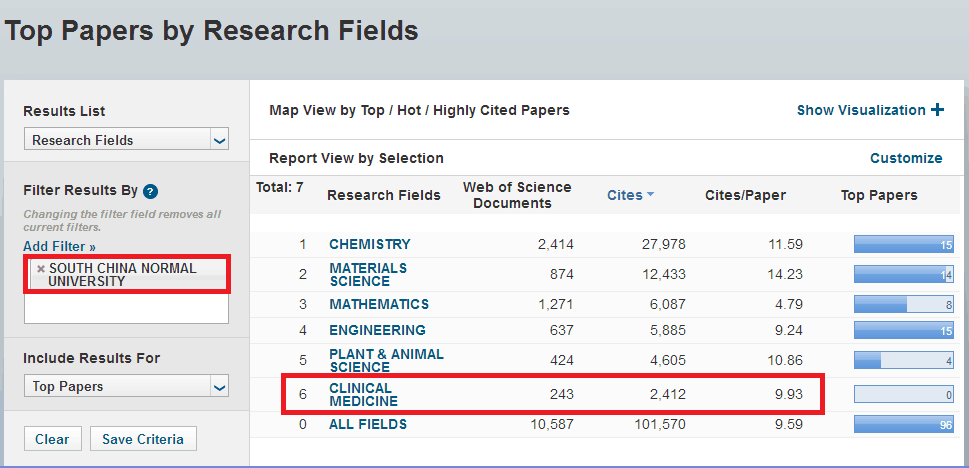 There are 4,129 institutions in the top 1% of ESI clinical medicine in the world, and SCNU ranks 4,090th globally. Over the past decade, 243 WOS papers related to clinical medicine were published, with 2,412 times cited and an average citation of per paper 9.93 times,indicating the international academic influence and average academic quality of "clinical medicine" at SCNU are further improved. According to the data, there are 15 secondary teaching and research schools at SCNU contributing to ESI discipline of "clinical medicine", with the college of Biophotonics, School of Physics, School of Information and Optoelectronic Science and Engineering, School of Computer Science and School of Life Sciences making the major contributions.
The latest ESI data shows that the number of subjects entering the top 1% of ESI's global ranking is among the top 3 of the national normal universities for the first time, and ranks forty-second among the national universities, reaching a new high. The school ranks 1,115 in the global organization, with a citation of 101,570 times, 10,587 papers and 96 advanced papers. Compared with the data of September 2018, the comprehensive ranking of global institutions rose by 78 places, the number of ESI disciplines in the national universities has risen by 10, and the number of high-level papers has increased by 28.
It is reported that since SCNU entered the ranks of"High-level Universities"in Guangdong Province in 2015, the university has attached great importance to the discipline development. The regulation of"South China Normal University Discipline Promotion Plan"and the"South China Normal University ESI Awards Scheme" have been issued successively in this year. Special funds and incentive implementation plans have been set up to support the development of ESI disciplines. At the same time, SCNU increased the publicity of ESI discipline development through various activities. Since September 2015, ESI analysis report and submission guidelines have been prepared regularly, and ESI-oriented research have been actively carried out at the university.
---
Source from the Development & Planning Department & the South China Normal University Library
Translated by Guo Qian
Proofread by Edwin Baak
Edited by Li Jianru
What to read next: