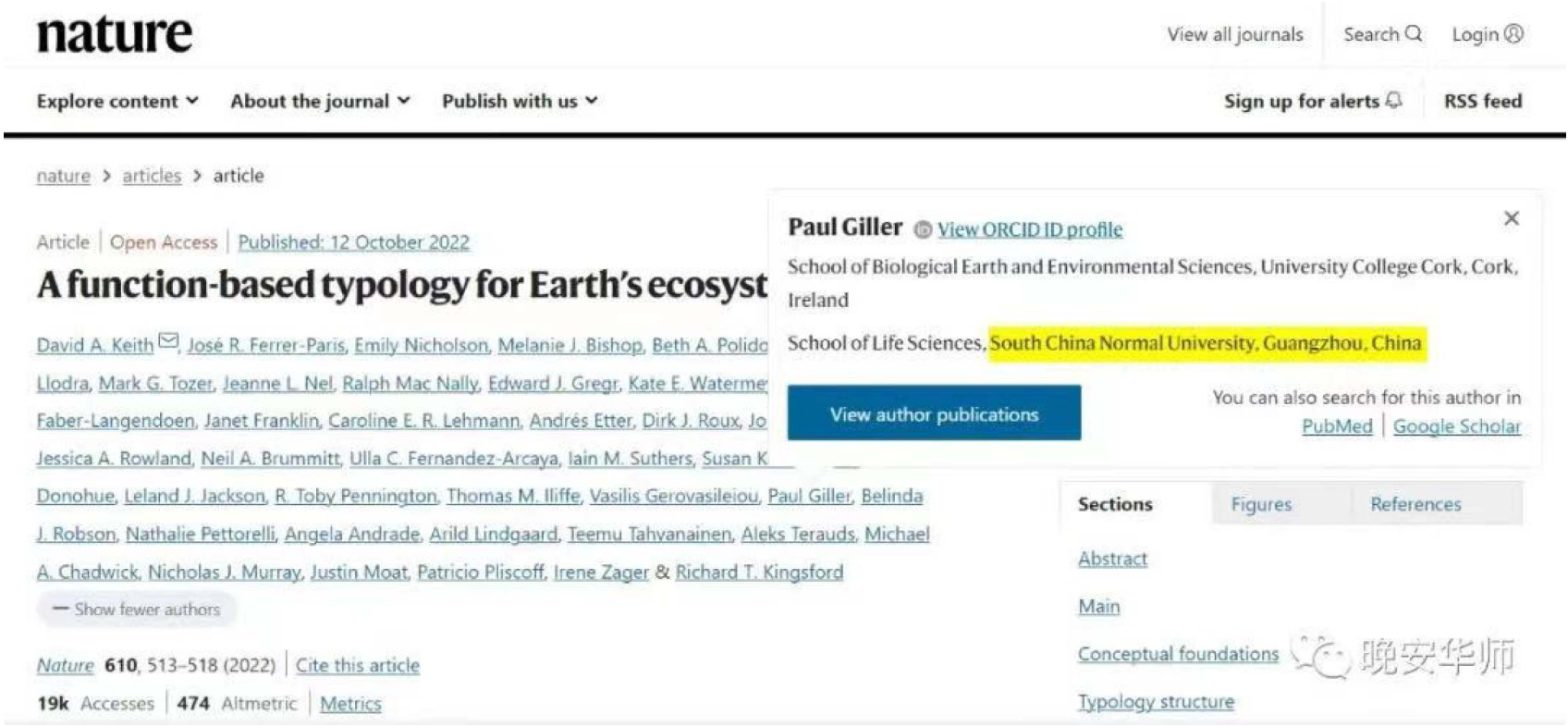 A research paper entitled A function-based typology for Earth's ecosystems by David A. Keith et al. was recently published in the journal Nature. Paul Giller, member of the Royal Irish Academy and guest professor of SCNU contributed to the study, while the School of Life Sciences of SCNU is a participating unit of the paper.
In the study, researchers present the International Union for Conservation of Nature (IUCN) Global Ecosystem Typology, which is a comprehensive classification framework for Earth's ecosystems. This novel framework places all of Earth's ecosystems into a unifying theoretical context to guide the transformation of ecosystem policy and management from global to local scales. Besides, this new typology will help identify the ecosystems that are most critical for biodiversity conservation, research, management and human well-being into the future.
As a renowned ecologist around the globe, Professor Paul Giller has long specialized in wetland ecology, freshwater biology, biodiversity, and ecosystem functioning in freshwater and terrestrial habitats. He has published more than 140 scientific papers in international authoritative academic journals and has been cited over 8,650 times on Google Scholar.
Professor Giller was awarded an Excellent Ecology Life Time Achievement Award by the Irish Ecological Association in 2018. That same year, he was appointed as a visiting professor of SCNU. He also attended the celebration of the 85th anniversary of SCNU and made a special academic report themed Streams and Rivers - Nature's Life Blood.
He also served as the senior vice president of University College Cork (UCC) from May 2005 to August 2015, during which he devoted himself to promoting international exchange and cooperation between UCC and SCNU. Under his advocacy, the School of Life Sciences of SCNU and the School of Biological, Earth and Environmental Sciences (BEES School) of UCC signed to establish the SCNU-UCC Joint Laboratory for Ecology and Environmental Science. In recent years, SCNU has funded 7 graduate students to UCC for exchange visits and study or doctoral studies.
See the paper:
https://www.nature.com/articles/s41586-022-05318-4#author-information
More about the Global Ecosystem Typology: http://global-ecosystems.org/
---
Source from SCNU News Center
Translated by Wan Banruo, Wang Ziqiao, Wei Xiaonan
Proofread by Edwin Baak
Edited by Li Jianru
What to read next: