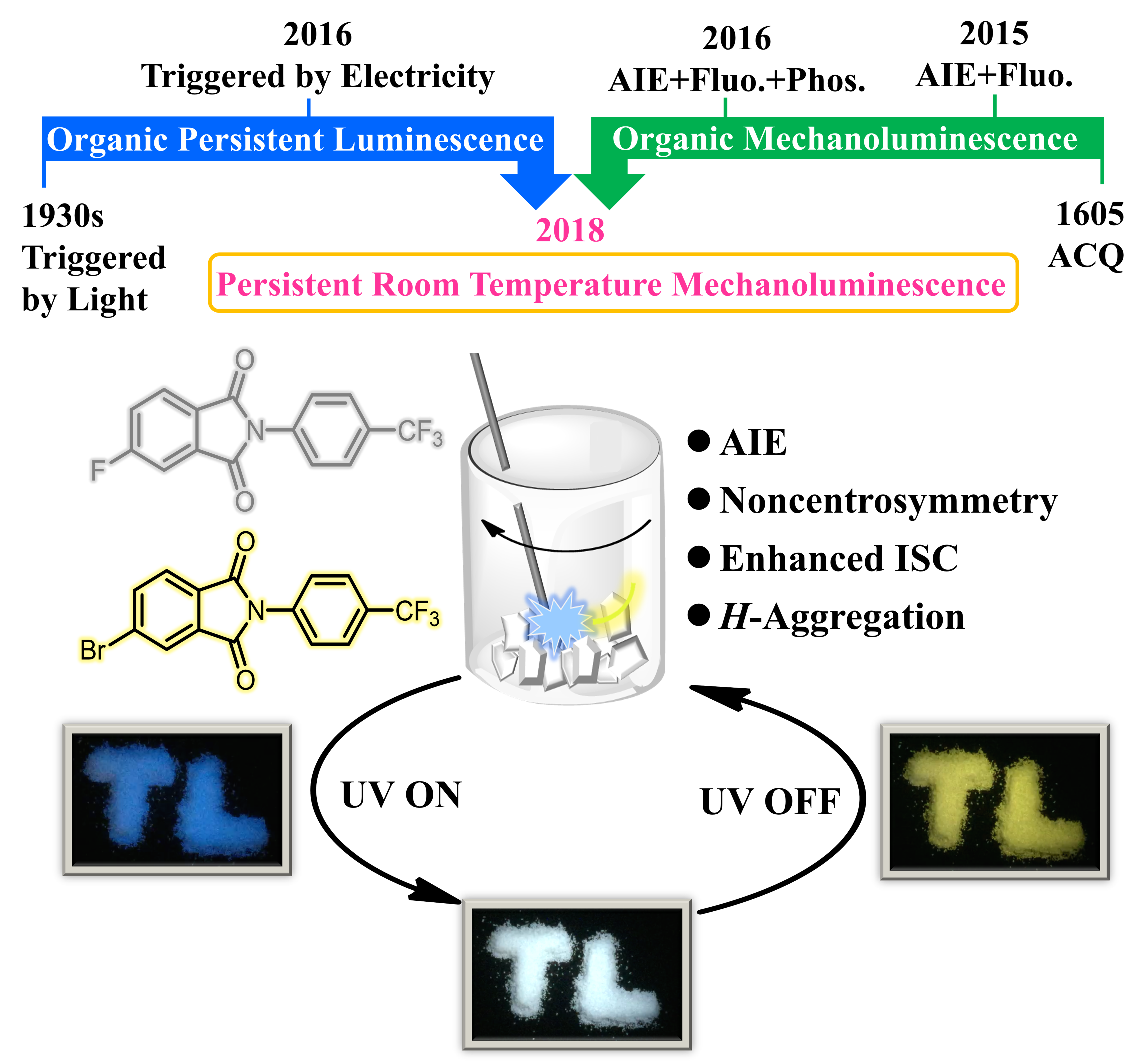 Recently, members of the Innovation and Entrepreneurship Training Program of the School of Chemistry and Environment, South China Normal University (SCNU), undergraduates of the class of 2015 Li Jianan and Zhou Jinghong, published an academic paper titled "Transient and Persistent Room-Temperature Mechanoluminescence from a White-Light Emitting AIEgen with Tricolor Emission Switching Triggered by Light" in the top international chemistry journal Angewandte Chemie International Edition "Angew. Chem.Int. Ed." (SCI IF=11.99) as the first authors.
Professor Shi Guang of the School of Chemistry and Environment and SCNU Young Top-Notch Talent and associate researcher Dr. Xu Bingjia of the same faculty are the corresponding authors. Undergraduates Chen Xin, Ren Dingyang and Pan Hui are the co-authors; SCNU is once more listed as the first unit.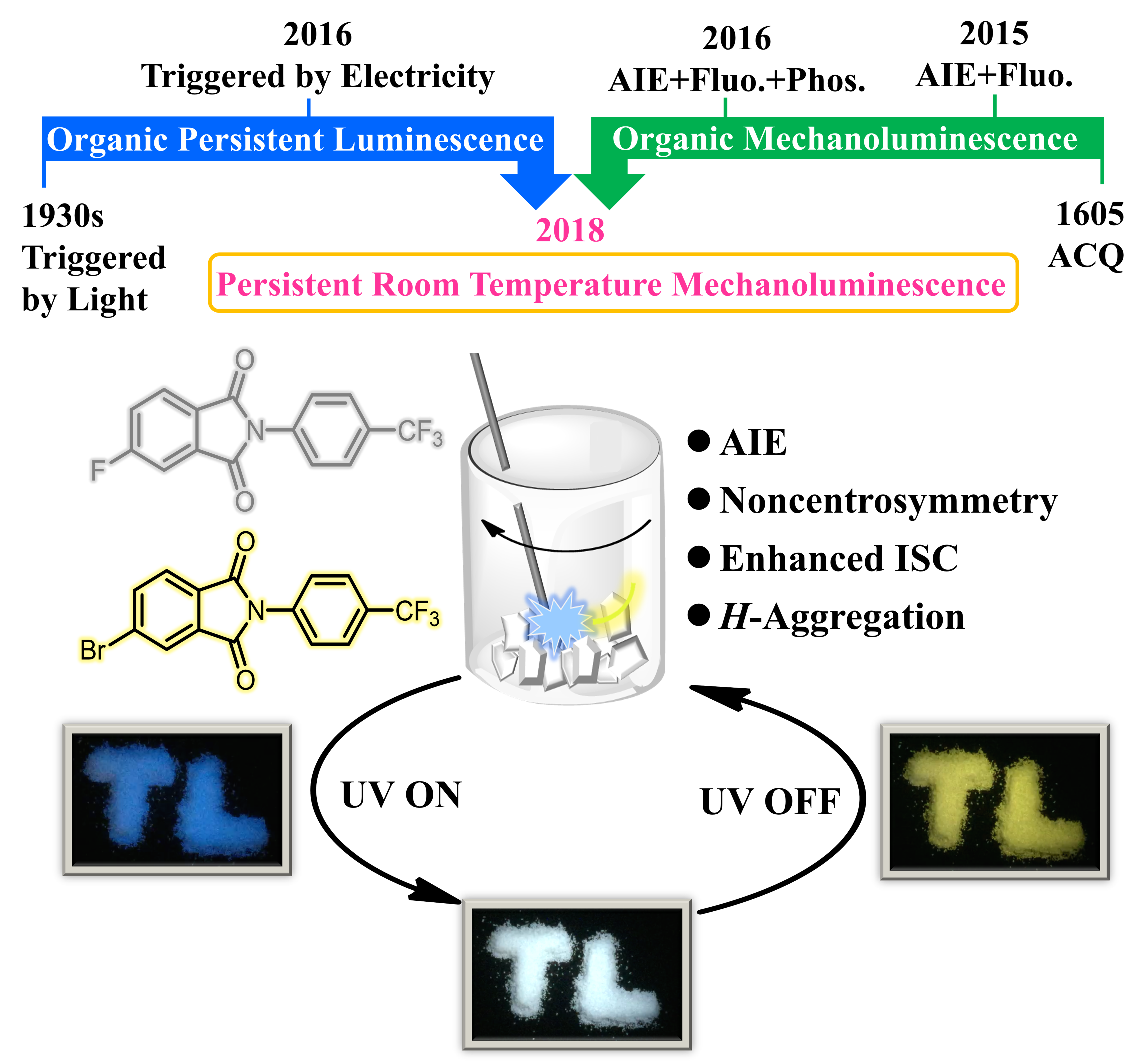 Persistent Room-Temperature Mechanoluminescence from purely organic materials and tricolor emission
It was reported that the paper was considered"very Important (top 5%)". Two days after the online publication, the authors received a letter from an associate editor of another internationally renowned academic journal, inviting them to write concept articles and papers on related research in progress. Meanwhile, the findings were also recommended by the senior associate editor of Angewandte Chemie International Edition to the internationally renowned academic website platform ChemistryViews.org as the research highlight.
Persistent luminescence from purely organic materials is basically triggered by light and electricity, which largely confines its practical applications. A purely organic AIEgen exhibits not only persistent photoluminescence, but also transient and persistent room-temperature mechanoluminescence. By simply turning on and off a UV lamp, tricolor emission switching between blue, white, and yellow was achieved. The data from single-crystal structure analysis and theoretical calculation suggest that the mechanism of the observed persistent mechanoluminescence (pML) is linked to the strong spin-orbit coupling of the bromine atom, as well as the formation of H-aggregates and the restriction of intramolecular motions in a noncentrosymmetric crystal structure. These results of the study outline a fundamental principle for the development of new pML materials, providing an important step forward in expanding the application scope of persistent luminescence.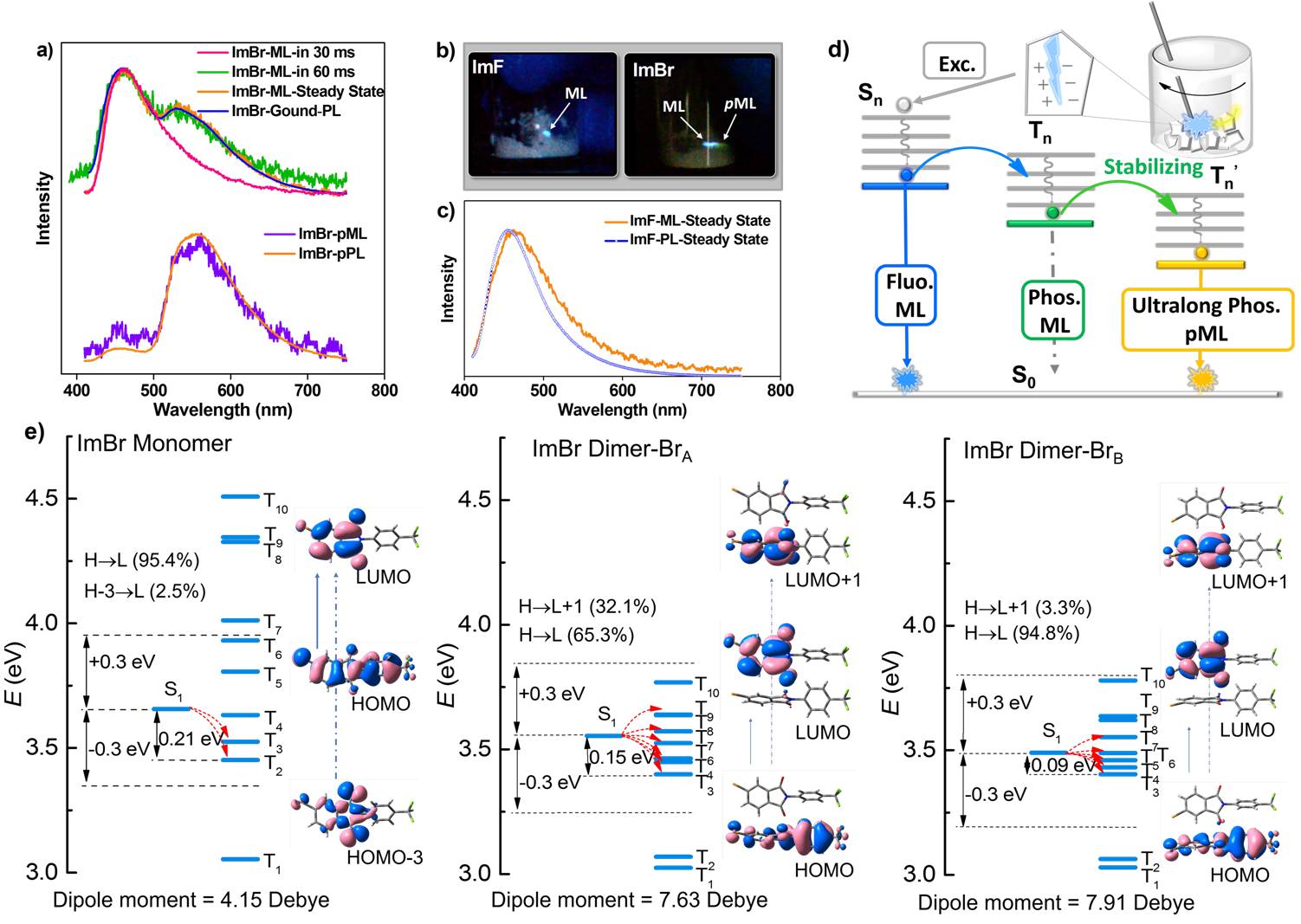 Persistent Room-Temperature Mechanoluminescence and its possible formation mechanism
The study was sponsored by National Natural Science Foundation of China, Science and Technology Program of Guangzhou, the Special Innovation Program for Guangdong University Major Scientific Research, the Natural Science Foundation of Guangdong Province and SCNU start-up funds for introduction of Young Top-Notch Talents. Associate Professor Liu Cong, Professor Hu Xiaogang and Associate Professor Long Yuhua from the School of Chemistry and Environment gave support and assistance to the research as well.
Related links:
Jian-An Li,†Jinghong Zhou,† Zhu Mao, ZongliangXie, Zhan Yang, Bingjia Xu,* Cong Liu, Xin Chen, Dingyang Ren, Hui Pan, GuangShi,* Yi Zhang, and Zhenguo Chi. Transient and Persistent Room-TemperatureMechanoluminescence from a White-Light Emitting AIEgen with Tricolor Emission
Switching Triggered by Light. Angew.Chem. Int. Ed., 2018, DOI:10.1002/anie.201800762, http://onlinelibrary.wiley.com/doi/10.1002/anie.201800762/full
---
Source from School of Chemistry and Environment
Translated by Li Jianru
Proofread by Edwin Baak
What to read next: