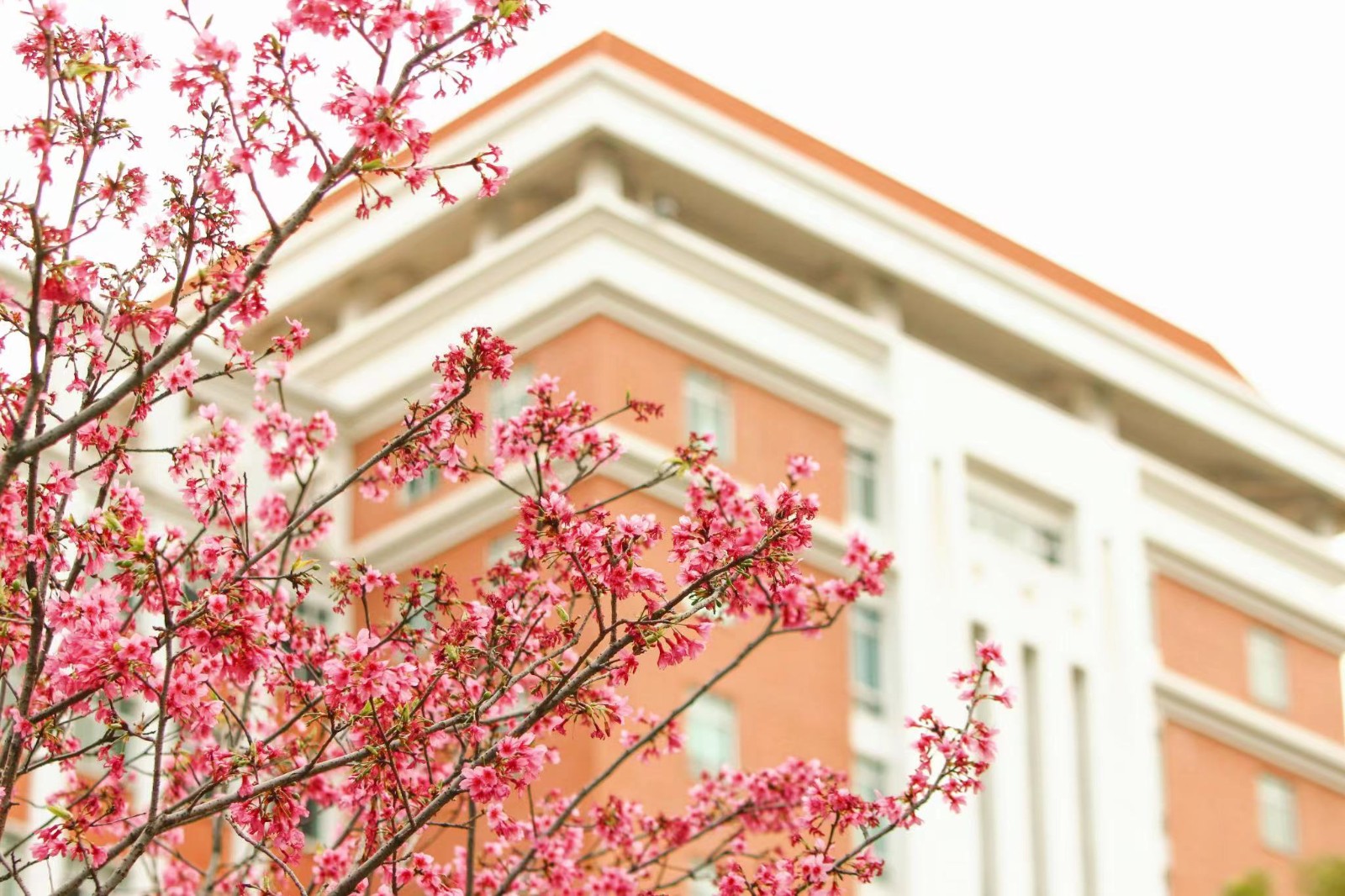 Another 27 SCNU majors were selected for development into First-class Undergraduate Majors, according to a list published by the Ministry of Education of the People's Republic of China. The total number of selected majors ranks the first among universities in the province.
The first-class undergraduate majors were selected from course programs, which performed either at the national level or the Guangdong provincial level. Finance, along with other 16 majors, is selected for development into a national first-class undergraduate major, while 10 majors, including communication engineering, were for development into provincial first-class undergraduate majors.
So far, SCNU has 64 programs designated for development into first-class undergraduate majors at the provincial level and above, accounting for 80% of the total number of undergraduate enrollment majors (new majors excluded).
20 of SCNU's 21 teacher-training majors are chosen at the provincial level, of which 18 advance to the national level. It shows the school-running concept of teacher-training education and the professional layout of multidisciplinary coordinated development, which effectively support SCNU to develop into an innovative and high-level university with outstanding teacher education advantage.
A total of 41 SCNU courses were selected as the first-class, with SCNU ranking second among all the universities located in Guangdong province, according to the final list announced by the Department of Education of Guangdong province.
Of these, six are on-line courses, 13 classroom teaching, 21 a mix of on-line and in-person classes. So far, the total number of first-class undergraduate courses at or above the provincial level has reached 127.
In April 2019, the Ministry of Education issued the notice on the implementation of "the Double 10,000 Plan" for the development of first-class undergraduate majors, aiming to develop about 10,000 national first-class undergraduate majors and about 10,000 provincial first-class undergraduate majors from 2019 to 2021. It aims to develop first-class specialties, comprehensively revitalize undergraduate education, and increase the universities' ability for talent training.
In October 2019, the Ministry of Education issued the guidance for the development of first-class undergraduate courses for universities. This guidance focuses on the curriculum reform and innovation and forming of diversified teaching content and curriculum system, promoting the construction of first-class undergraduate majors.
The list of 27 majors selected for development into first-class undergraduate majors
| | | | |
| --- | --- | --- | --- |
| Serial Number | School | Major | Level |
| 1 | School of Economics & Management | Finance | National |
| 2 | School of Economics & Management | Human Resources Management | National |
| 3 | School of Economics & Management | Information Management & Information System | National |
| 4 | School of Economics & Management | E-commerce | National |
| 5 | School of Economics & Management | Logistics Management | National |
| 6 | School of Economics & Management | Financial Management | National |
| 7 | School of Information Technology in Education | Communication Sciences | National |
| 8 | School of Fine Arts | Fine Arts | National |
| 9 | School of Music | Musicology | National |
| 10 | School of Politics and Public Administration | Public Affairs Management | National |
| 11 | School of Politics and Public Administration | Management Sciences | National |
| 12 | School of Education | Early Childhood Education | National |
| 13 | School of Physical Education & Sports Science | Exercise Training | National |
| 14 | School of Foreign Studies | Japanese | National |
| 15 | School of Philosophy and Social Development | Social Work | National |
| 16 | School of Marxism | Marxist Theory | National |
| 17 | School of Life Sciences | Bioengineering | National |
| 18 | School of Electronics and Information engineering | Communication Engineering | Provincial |
| 19 | School of Education | Special Education | Provincial |
| 20 | School of Foreign Studies | Russian | Provincial |
| 21 | School of Fine Arts | Product Design | Provincial |
| 22 | School of Geographical Sciences | Physical Geography & Resources Environment | Provincial |
| 23 | School of Computer Science | Network Engineering | Provincial |
| 24 | School of Tourism Management | Exhibition Economy & Management | Provincial |
| 25 | School of Chemistry | Materials Chemistry | Provincial |
| 26 | School of Environment | Environmental Sciences | Provincial |
| 27 | School of Urban Culture | Culture Industry Management | Provincial |
The list of undergraduate courses at SCNU recognized as first-class provincial courses for the year 2021
| | | | | |
| --- | --- | --- | --- | --- |
| Serial Number | School | Type | Course | Program Leader |
| 1 | School of Education | On line | Thinking & Learning the Educational Wisdom in Mencius | Huang Mingxi |
| 2 | School of Foreign Studies | On line | Foreign Language Education Technology | Liu Xiaobin |
| 3 | School of Chinese Language & Literature | On line | Introduction to Chinese Culture | Sun Xuexia |
| 4 | School of Physical Education & Sports Science | On line | Sports Introduction | Deng Xinghua |
| 5 | School of Politics and Public Administration | On line | Practical Training of Rational Thinking | Tang Hao |
| 6 | School of Physical Education & Sports Science | On line | Sociology of Sports | Ma Lianzhen |
| 7 | School of Foreign Studies | In-person | English Language Teaching Skills | Xu Manfei |
| 8 | School of Physics & Telecommunication Engineering | In-person | General Physics Experiment(2) | Li Fengguo |
| 9 | School of Software | In-person | Data Structure & Algorithm | Pan Jiahui |
| 10 | School of Psychology | In-person | Cognitive Psychology | Wang Suiping |
| 11 | School of Physics & Telecommunication Engineering | In-person | Optics | Chen Yihang |
| 12 | School of History & Culture | In-person | History Core Competencies & Senior Middle School History Teaching Experimental Study | Huang Muhang |
| 13 | School of Geographical Sciences | In-person | Satellite Navigation Localization Techniques Application | Fu Yingchun |
| 14 | School of Philosophy and Social Development | In-person | Logic & Critical Thinking | Xiong Ming |
| 15 | School of Music | In-person | Lingnan(Original Form) Folk Dance Materials | Huang Haiying |
| 16 | School of Information Technology in Education | In-person | Design Thinking | Zhang Qianwei |
| 17 | School of Software | In-person | Philosophy & Ethics of Artificial Intelligence | Zhu Dingju |
| 18 | School of Economics & Management | In-person | Management Principles | Feng Juzhang |
| 19 | School of Tourism Management | In-person | Tourism Regulations | Zhuang Xiaoping |
| 20 | School of Information Technology in Education | Mixed On line & In-person | Education & Communication | Hu Xiaoyong |
| 21 | School of Philosophy and Social Development | Mixed On line & In-person | Critical Thinking & Training Methods | Zhao Yi |
| 22 | School of Chemistry | Mixed On line & In-person | Didactics of Chemistry | Deng Feng |
| 23 | School of Economics & Management | Mixed On line & In-person | Performance Management | Xu Xianglong |
| 24 | School of Mathematical Sciences | Mixed On line & In-person | Curriculum & Didactics of the Elementary Mathematics | Liu Zhe |
| 25 | International Business College | Mixed On line & In-person | Business Communication | Zhuang Huijuan |
| 26 | School of Software | Mixed On line & In-person | Software Engineering Methods of Human-computer Interaction | Zeng Biqing |
| 27 | School of Life Sciences | Mixed On line & In-person | Molecular Biology | Huang Lihua |
| 28 | School of Computer Science | Mixed On line & In-person | Computer Network | Zhang Zhiqi |
| 29 | School of Foreign Studies | Mixed On line & In-person | Research Methods in Academic Writing | Liu Wei |
| 30 | School of Tourism Management | Mixed On line & In-person | Micro-Economics | Qu Hua |
| 31 | International Business College | Mixed On line & In-person | Innovative Thinking Training | Chai Shaoming |
| 32 | School of Mathematical Sciences | Mixed On line & In-person | Complex Function | Huang Zhibo |
| 33 | School of Environment | Mixed On line & In-person | Environmental Engineering Design & Construction | Zhang Gang |
| 34 | School of Chemistry | Mixed On line & In-person | Inorganic Non-metallic Materials Sciences | Luo Suilian |
| 35 | School of Urban Culture | Mixed On line & In-person | Introduction to Cultural Resources | Chen Weiqiang |
| 36 | School of Computer Science | Mixed On line & In-person | Principles & Applications of the Internet | Shen Yingshan |
| 37 | School of Computer Science | Mixed On line & In-person | Python Language Programming | Liu Hai |
| 38 | School of Politics and Public Administration | Mixed On line & In-person | Community Development & Family Education | Liu Jianling |
| 39 | School of Chemistry | Mixed On line & In-person | Polymer Chemistry | Ma Lijun |
| 40 | School of Information Technology in Education | Mixed On line & In-person | Curriculum Design and Development in Education Training | Yu Hong |
| 41 | School of Foreign Studies | Social Practice | Foreign Language Education Practice in Countryside | Gong Hongyu |
---
Source from SCNU

Translated by Zeng Wenting, Yang Yi
Proofread by Edwin Baak
Edited by Li Jianru
What to read next: