During the "International Chinese Language Education Week 2021" (the ICLEW 2021), the 2021 "Chinese Language Teaching Idols" Online Event of Chinese Language Teaching Skills Display & Exchange of Top Teachers in China, which was hosted by the Center for Language Education and Cooperation (CLEC), jointly organized by Beijing Foreign Studies University, Foreign Language Teaching and Research Press (FLTRP), and ChinesePlus, was officially launched on December 15. Liu Limin, former Vice Minister of the Ministry of Education, Chief member of Master of Teaching Chinese to Speakers of Other Languages (MTCSOL) Education, President of China Education Association for International Exchange; Mr. Zhao Guocheng, Deputy Director-General of the Center for Language Education and Cooperation; Liu Hong, President of Dalian University of Foreign Languages; Ding Hao, Vice-President of Beijing Foreign Studies University; Zhao Yang, professor and dean of the School of Chinese as a Second Language at Peking University; and Wang Fang, the assistant president of FLTRP attended the launching ceremony and delivered speeches. Liu Jie, Executive Vice President of FLTRP hosted the ceremony.
Liu Limin said that teachers play the most important, the most underlying and most critical part in International Chinese Language Education. Chinese teachers who had lofty ideals, stuck to the original aspiration of education, had an international perspective, mastered professional knowledge, and made good use of teaching methods were the "true teaching idols" who helped promote the development of the discipline, enhance international communication, and deepen exchanges and mutual learning among civilizations. At a time when the ecological pattern of International Chinese Language Education is undergoing profound changes, the excellent performance of the teams of teachers and students in this activity strongly demonstrates the new achievements made in the disciplined construction of International Chinese Language Education in a new era.
Zhao Guocheng introduced some features of the event, as follows: first, A wide range of people participated in the event. It had attracted amounts of front-line teachers, volunteers, local Chinese teachers and students majoring in International Chinese Language Education, which showed the spirit of concentrating, striving and making progress. Second, due to the impact of the epidemic, while the entry of foreign students was restricted and overseas classes were switched to online classes, the majority of Chinese teachers stuck to their posts, carried out new online teaching practices, studied new skills in Chinese teaching, and showed their perseverance in overcoming difficulties. Third, the activities were rich in content and diversified in form. Each team was committed to the innovation of concept, technology, skills and practice, and everyone had distinctive teaching ideas, and showed substantial as well as interesting courses. In addition, the teaching methods were full of variety. Fourth, the experts commented on the brilliant atmosphere of interaction and communication, and on the excellent team cooperation and careful preparation. Zhao Guocheng said that the CLEC would consistently strive for exploring and building a larger, richer, and more effective platform for Chinese teachers to communicate, and work together with other institutions to create a prosperous future for international Chinese language education.
Liu Hong spoke online on behalf of the participating institutions and regional organizers of the event. She said that the 2021 "Chinese Language Teaching Idols" event highly complied with the ICLC's new requirements for teachers under a new development situation. The teachers and students of all participating schools had demonstrated their professional qualities, spiritual outlook, cutting-edge teaching concepts, outstanding teaching skills, extensive cultural knowledge, and broad international vision, which would surely inspire more outstanding young people from all over the world to devote themselves to this great and meaningful cause.
Ding Hao said that holding the 2021 "Chinese Language Teaching Idols" event was not only a key brand attempting to strengthen the exchange for international Chinese Language Education, but also a concrete and effective measure to promote the construction of international Chinese language teachers. Beijing Foreign Studies University was willing to strengthen communication and exchanges, deepen coordination and cooperation, unite all parties, keep up with the new trend of international Chinese language education, integrated the new philosophy of discipline construction, and strived to make new contributions to promote Chinese education worldwide and help the world have a better understanding of China.
Wang Fang pointed out that international Chinese language education was an important component part for international exchange and cooperation in education as well as an important platform for China to integrate into the world, and for the world to understand China. FLTRP would take advantage of this event to adhere to problem-oriented philosophy, strengthen exchanges and cooperation, promote collaborative development, and make unremitting efforts to build an international Chinese language education resource ecosystem.
Zhao Yang spoke as a representative of the guests, and who summed up three points about the event: First, teams of schools comprehensively made use of online resources and online means, indicating that teachers' quality of Chinese language educational informatics is constantly improving. Second, interaction in class is significantly enhanced and attention paid to the encouragement of learners was greatly increased, indicating the true improvement of "learner-oriented" education. Third, language and culture are integrated, and more attention is paid to micro narration, which meant cultural education is turning more practical.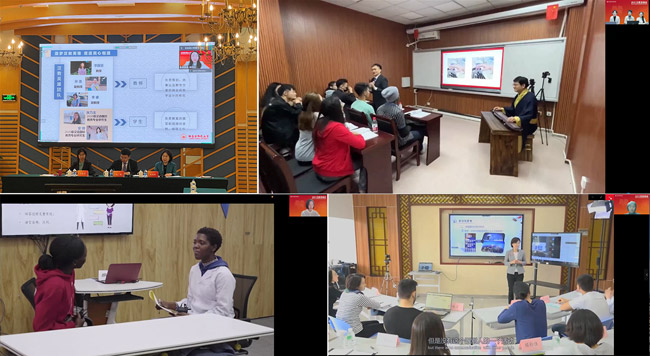 With the theme of "New Ideas, New Skills and New Practices", this event promotes progress, teaching, application and innovation, aiming to encouraging international Chinese language teachers to update their teaching concepts, innovate teaching methods, and achieve high-quality development of international Chinese language education. The event started in October, and was organized into six zones, which are Beijing Foreign Studies University in the north of China, Dalian University of Foreign Languages in the northeast, East China Normal University in the east, Yunnan Normal University in the southwest, Lanzhou University in the northwest and South China Normal University in the central south. The event attracted a total of 821 Chinese and foreign teachers and students from 154 colleges and universities in 28 provinces, municipalities, and autonomous regions. Thirty teams from Northeast Normal University, Xinjiang University, Tianjin Normal University, and other colleges and universities participated in the national exchange event recommended by the evaluation experts of each region.
This national exchange event lasts for two days, is divided into 6 topics, including Systematic Teaching Concept and Speed-up Chinese Language Teaching, Diversified Teaching Resources and Chinese Culture Teaching, Digital Teaching Methods and Primary Chinese Language Teaching, Diversified Teaching Methods and "Chinese +" Teaching, Innovative Teaching Mode and Intermediate and Advanced Chinese Teaching, Intensive Teaching Process and Special Chinese Language Teaching. In addition, there were 16 expert teachers from China, the United States and the United Kingdom who served as the comment guests at the national exchange stage of the activity.
---
Source: http://www.chinese.cn/page/#/pcpage/article?id=945
What to read next: