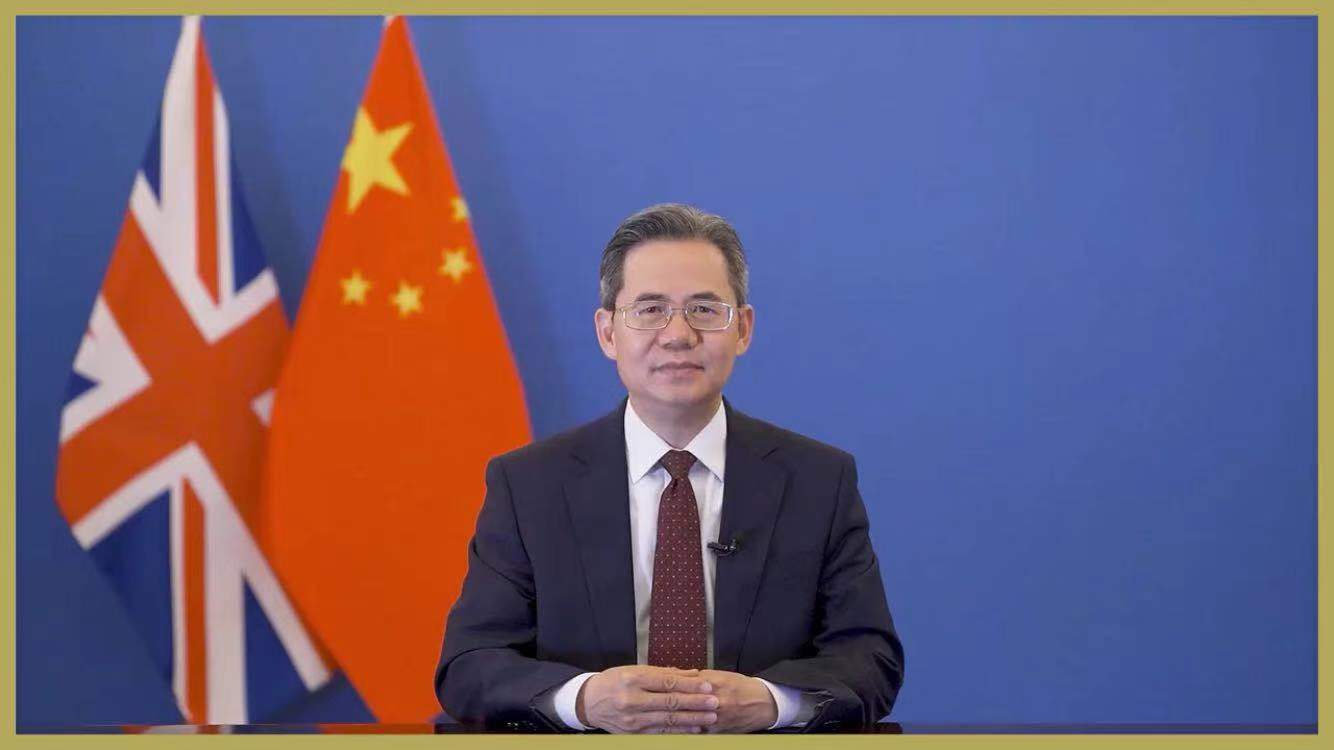 China's new ambassador to the UK, Zheng Zeguang, has delivered his first message to British citizens and Chinese citizens living in the UK.
In the address, he noted the strong and historic trading relationship between China and the UK.
"Ever since the establishment of diplomatic ties at the ambassadorial level nearly 50 years ago, China-UK relations have gone through an extraordinary journey and fruitful results. China and the UK are important trading partners to each other. Despite the impact of COVID-19. Two-way trade and investment bucked the trend to register record growth last year. This speaks volumes about the great resilience and enormous potential of our business ties," he said.
Although the world is changing - and Zheng noted the challenges are not all the same - there are also similar challenges.
"China and the UK are both experiencing profound transformation. China has embarked on a new journey of building a modern socialist country in all respects. While the UK is faced with a new task of delivering global Britain. Our two countries also face the global challenges of COVID-19 and climate change."
The 57-year-old, who was born in Guangdong province, had been vice-minister of foreign affairs since 2015.
He studied at the Department of Foreign Languages, South China Normal University from 1982 to 1986.
He started his diplomatic career in 1986, when he joined the Foreign Ministry, and he studied Cardiff University in the UK on a government program.
Zheng has abundant experience in working overseas, and he worked at China's embassy in Trinidad and Tobago briefly.
Zheng has largely concentrated on United States-related issues since 1990, when he started working in the Foreign Ministry's Department of North American and Oceanian Affairs and in China's embassy in the US. Zheng was then based in the US twice, between 1994-1997 and 2005-2008.
He became assistant minister of foreign affairs in 2013 before being promoted to the post of vice-minister. He also served as vice-mayor of Nanjing, the capital of Jiangsu province, between 2010 and 2013.
Zheng said in a message issued on the website of the Chinese embassy on Monday that China stands ready to work with the UK to "enhance exchanges, expand cooperation and handle differences in an appropriate manner under the principles of mutual respect, equality, inclusiveness and mutual learning".
"Our two sides may deepen cooperation in trade, finance, innovation, people to people exchanges in other fields and stepped-up coordination on global issues such as fighting COVID-19, spurring global recovery and tackling climate change. We also need to address our differences properly. These are the kind of efforts needed to ensure that China-UK relations will deliver more benefits to our peoples and contribute still more to world peace and common development."
Zheng replaced Liu Xiaoming, who was the longest-serving Chinese ambassador to the UK.
Source: https://newseu.cgtn.com/news/2021-06-07/China-s-new-ambassador-Zheng-Zeguang-arrives-in-UK-10PtFlD8drO/index.html
https://enapp.chinadaily.com.cn/a/202106/09/AP60be9ee1a310f03332fa110d.html
https://www.fmprc.gov.cn/mfa_eng/wjb_663304/zygy_663314/gyjl_663316/zzg_663334/
What to read next: