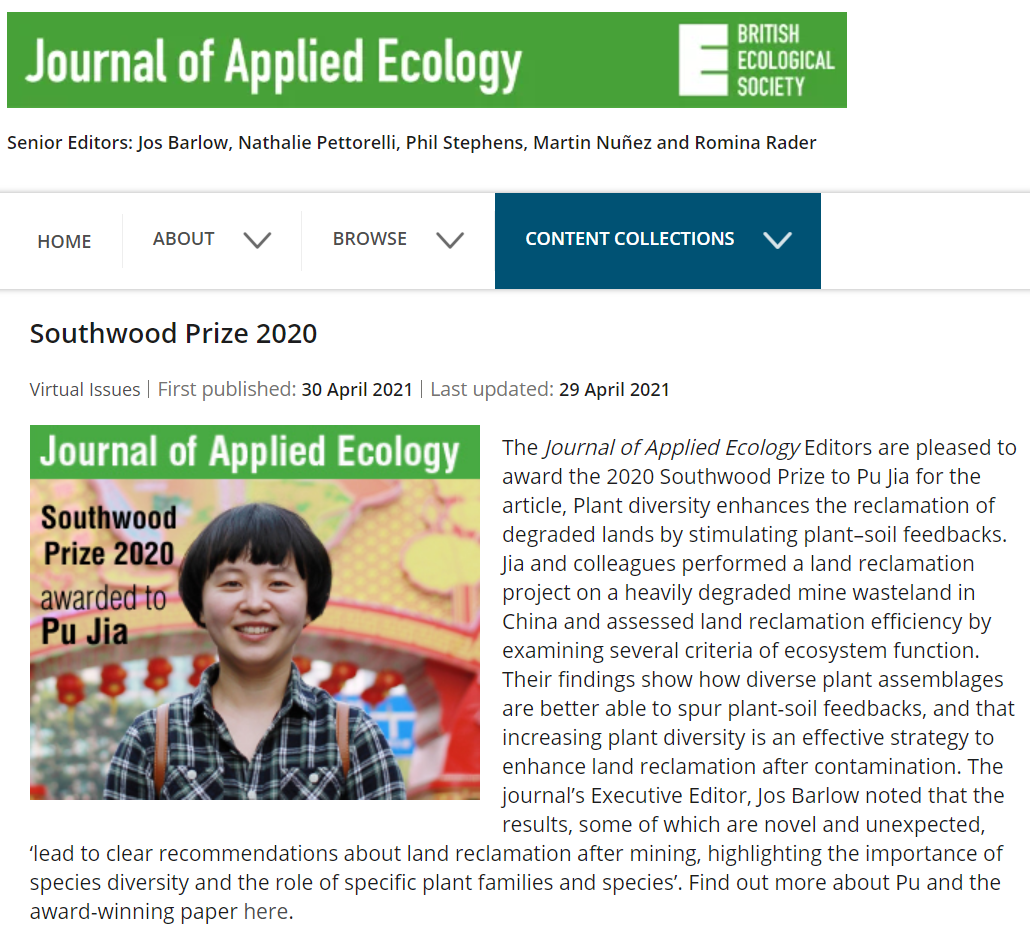 Pu Jia, a postdoctoral research fellow at the Institute of Ecological Science, SCNU, has been awarded the Southwood Prize 2020, according to the latest announcement on the official website of the British Ecological Society. She is the first researcher from China, as well as the first female researcher in Asia to win the Southwood Prize since its establishment in 2007.
The prize was established by the British Ecological Society in memory of Sir Richard Southwood, a famous British zoologist and ecologist. Every year, an outstanding young ecologist whose best paper of the year is published in the Journal of Applied Ecology during the early stage of their scientific career (i.e. within five years after receiving their doctor's degree) wins the prize.
Pu Jia's winning paper is Plant diversity enhances the reclamation of degraded lands by stimulating plant–soil feedbacks, in which she worked with her colleagues to perform a land reclamation project on a heavily degraded mine wasteland in China, and assessed land reclamation efficiency by examining several criteria of ecosystem function. Their findings show how diverse plant assemblages are better able to spur plant-soil feedbacks, and that increasing plant diversity is an effective strategy to enhance land reclamation after contamination, according to the official website of the Journal of Applied Ecology.
Professor Li Jintian of the School of Life Sciences at SCNU and Professor Marc W. Cadotte of the University of Toronto are the corresponding authors of the paper, while Dr. Liang Jieliang (SCNU) is listed as the first co-author.
---
Source from SCNU News Agency
Translated by Zeng Yuetong
Proofread by Edwin Baak
Edited by Li Jianru
What to read next: