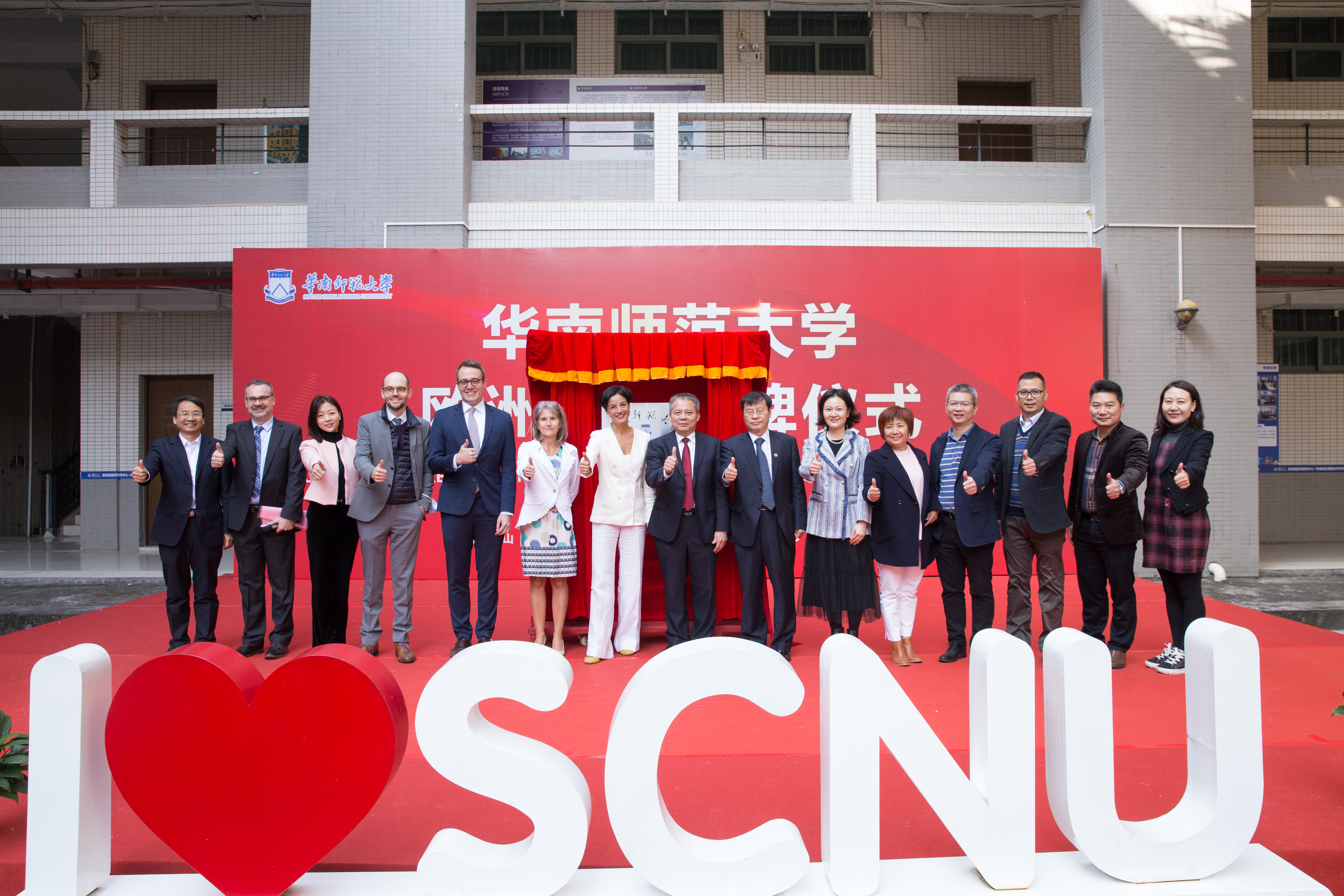 The unveiling ceremony of the South China Normal University European Center was held at the International Business College on December 8. The establishment of the center will strengthen the connection between European countries and SCNU as well as promote the international development of the university.
Wu Jian, vice president of SCNU expressed his welcome to the guests and pointed out that with the establishment of the European Center a platform with more learning and exchange programs for teachers and students of SCNU will be created. In the future, the center will focus on arranging short-term study tours, long-term educational exchange programs, and promote cooperation in education and scientific research, thus making contributions to the internationalization of SCNU in diversified ways.
Professor Shi Zhiqin, the executive dean of One Belt-One Road Strategy Institute, Tsinghua University, stressed the importance of Sino-European relations, and proposed that this type of institution is conducive to the development of a stable and mature Sino-European cooperative relationship, while strengthening cooperation with European countries in the field of research on society, history, and culture.
Lucia Pasqualini, consul-general of the Republic of Italy in Guangzhou; vice-consul of the Federal Republic of Germany in Guangzhou; Geoffrey Eekhout, vice-consul of the Kingdom of Belgium in Guangzhou; Véronique ANTON, consul of Science and Technology and Higher Education Cooperation of Consulate General of France in Guangzhou, attended as the speakers.
The consuls-general of various European countries affirmed the positive effect of the establishment of the center on enhancing the cooperation and exchanges between China and European countries, and expressed the willingness to support the development of the European Center at SCNU. In the future, the consulates will organize more activities with SCNU collaboratively.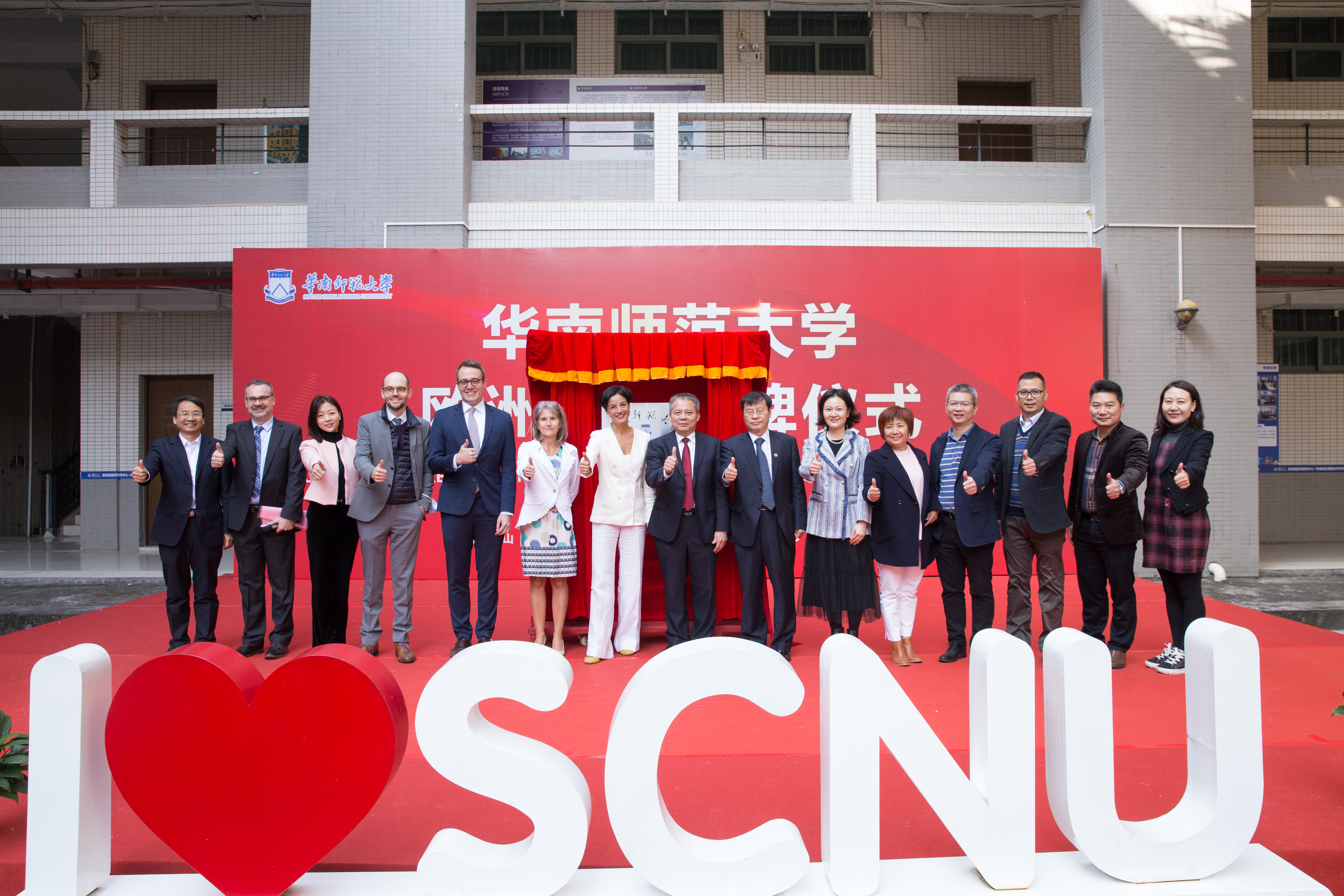 Leaders from SCNU and Tsinghua University, together with participating Consuls-general of various European countries, unveil the plaque of the South China Normal University European Center.

After the ceremony, a Development-Strategy Forum was held by the participants and they reached a preliminary consensus in areas such as how to promote exchange between students, how to reflect the diversity and complexity of Europe through teaching, how to enhance cultural exchange, and how to strengthen project cooperation with consulates and embassies of various countries. The European University Institute's science and research project, educational exchange programs, research and teaching programs, "the German student exchange center", scholarships and cultural exchange programs with French universities were also discussed in depth.
The establishment of the European Center is an important step for SCNU to facilitate its Internationalization of education as the ongoing international development of higher education is a trend throughout the world. The center will create a broad international learning and teaching exchange platform for teachers and students of SCNU, and deepen the cooperation in academic research at SCNU and European universities. Also, cultural exchange and cooperation will contribute to the development of SCNU's internationalization strategy and promote the international influence of the school.

---
Source from the International Business College
Translated by Long Yuchen, Lin Zihao
Proofread by Edwin Baak
Edited by Li Jianru
What to read next: