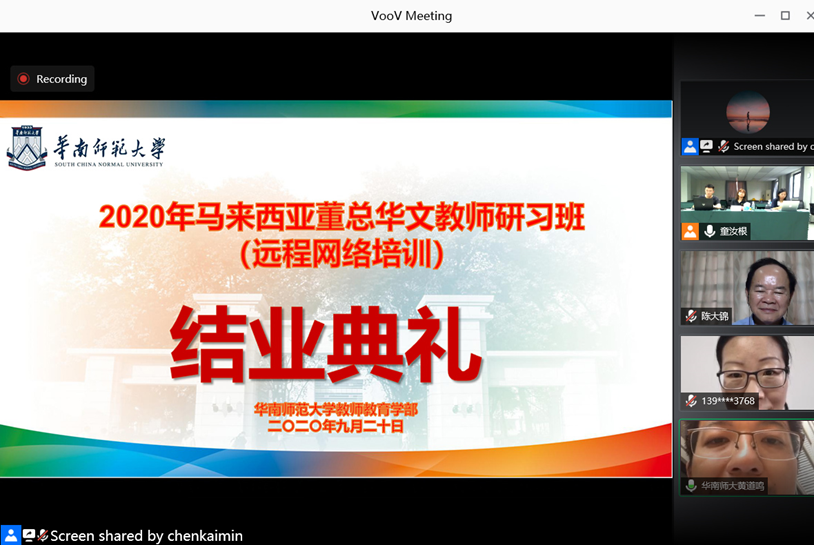 SCNU held an online Chinese teacher training program for the United Chinese School Committees' Association of Malaysia (UCSCAM), aiming to further spread Chinese language education and deepen cultural exchange between the two countries.
The training, which was held by way of remote courses due to the epidemic, includes a variety of activities, such as on-line lectures, cloud visits to representative middle schools, community building, participative training, case studies, and symposiums.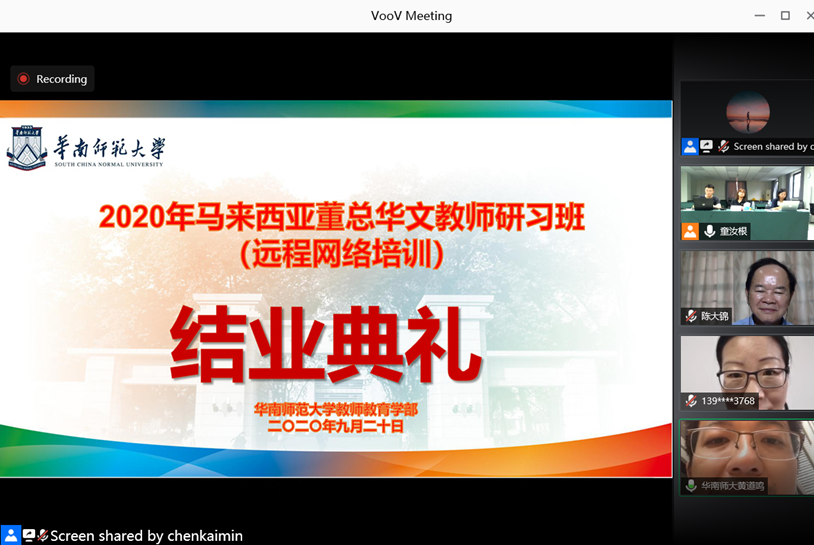 The online closing ceremony of the Chinese Teacher Training Course 2020
"We aim to promote the professionalization of Chinese teachers in Malaysia, which is of great importance in promoting Chinese language education and strengthening Sino-Malaysian friendship," Shen Weihong, researcher on behalf of the Overseas Chinese Affairs Office of the People's Government of Guangdong Province said at the closing ceremony on September 20.
As planned, the participants were guided to use interactive tools to apply their knowledge and skills to practical work and present training results. It enabled them to learn from Chinese education, enhancing their professional ability as teachers, said Chen Dajin, chairman of the UCSCAM. He also expressed his gratitude for the government support and the fine arrangements made by the College of Teacher Education of SCNU.
A special lecture on Chinese primary education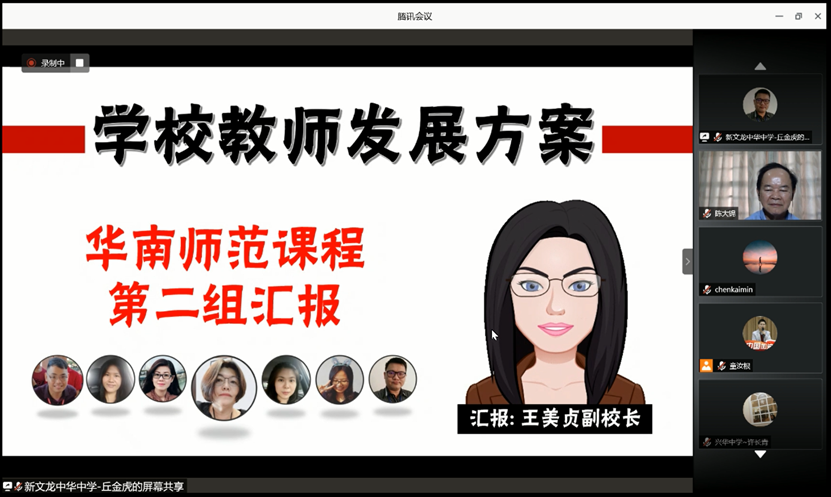 Presentation by a group of trainees
Congratulating the teachers on their successful graduation, Shen Liling, deputy director of the Office of International Exchange and Cooperation, summarized the role of this on-line training and showed expectations for the trainees at the ceremony. For further communication in the future, friends from Malaysia are welcomed to visit SCNU for on-the-spot exchange someday, said Huang Daoming, vice-president of the College of Teacher Education of SCNU.
Entrusted by the Overseas Chinese Affairs Office of the People's Government of Guangdong Province, the training was well organized by SCNU. 26 teachers from Malaysia joined this year's online courses that last for eight days in total.
"We are glad to learn about new technology and knowledge of the new teaching mode of on-line training," said a trainee who took the course. The training involves experience sharing in Chinese teacher education, teacher professional development and curriculum development to Chinese teachers in Malaysia in an all-round way.
The group photo of all the participants
The success of this training shows the achievements of teacher education training against the background of "Internet + Education". In the future, SCNU will continue to cooperate with Malaysia on teacher training courses, to promote the development of Chinese education in Malaysia, and strengthen educational exchange and cooperation between the two countries as well.
---
Source from the College of Teacher Education
Translated by Chen Xiaodan
Proofread by Edwin Bakk
Edited by Li Jianru
What to read next: