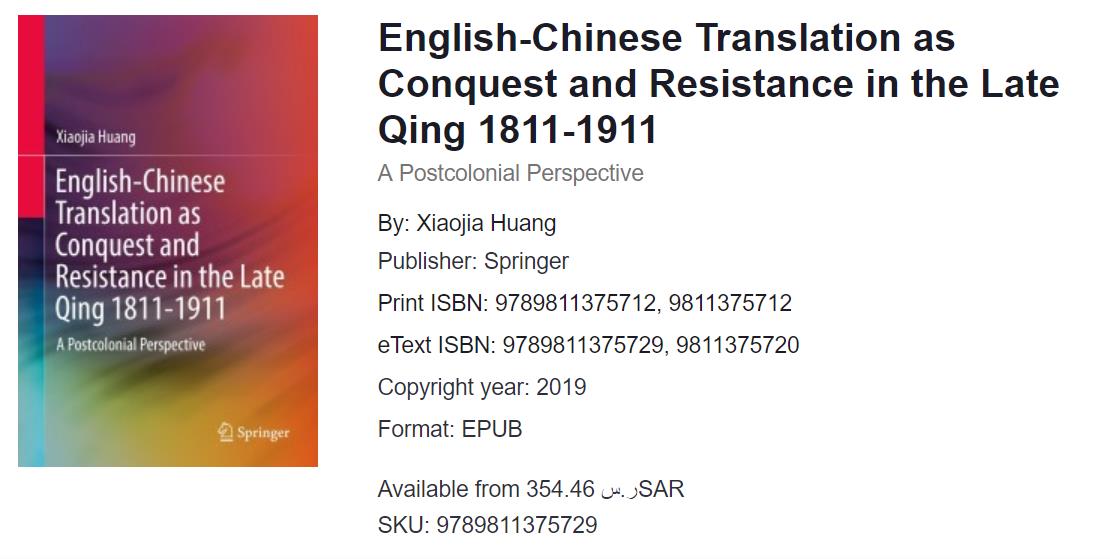 A high-level monograph on translation studies entitled "English-Chinese Translation as Conquest and Resistance in the Late Qing 1811-1911:A Postcolonial Perspective" was published on world-class publishing house Springer. The book was completed by Huang Xiaojia, a young scholar and associate professor of the School of Foreign Studies in SCNU.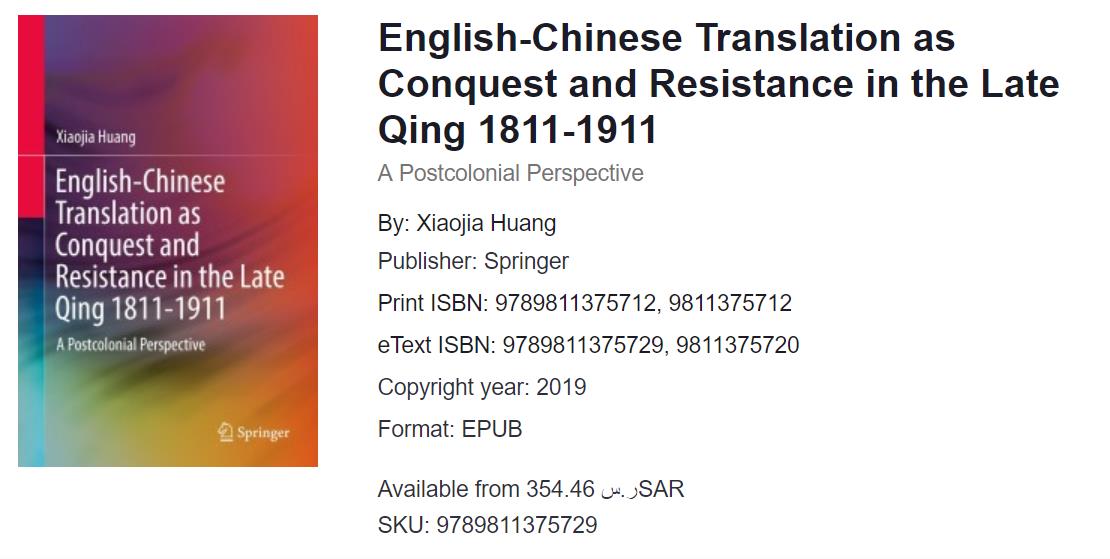 The monograph, from a postcolonial perspective, delves into the role of English-Chinese translation seen as forms of conquest and resistance during the late Qing dynasty. Huang Xiaojia argues that, translations made during this period, played a role in the Western invasion of China and China's resistance, and concluded that the role of translation during this period was far from "innocent" and "transparent" but full of complex power relations.
Reviewing experts agree that the monograph puts the following innovation pointsforward: (1) In the post-colonial context, the English-Chinese translation in the late Qing Dynasty became a tool of Western aggression against China and a weapon of Chinese resistance, a discovery that has made the world's map of post-colonial translation studies more complete. (2) It expands the connotation of "Translation as Conquest" which was put forward by Nietzsche, while redefining "Translation as Resistance" and combines these two ideas in the context of Chinese postcolonial studies. (3) It develops the analytical model based on the theory "The Four Causes" of Aristotle, providing new perspectives and methods to evaluate the historical role of translation.
Associate Professor Huang Xiaojia, with the support and encouragement of the School of Foreign Studies, has made valuable explorations in international dialogue, exchange and cooperation in academic research in recent years. Following the publication of a monograph on translation studies with the Scholar's Press, in 2016, as the first author, Huang Xiaojia and professor Bao Chuanyun, the former dean of the Institute of Advanced Translation of the Middlebury Institute of International Studies at Monterey,USA, published a paper on "Chinese Translation" which has attracted attention and attention to the construction of translation database at home and abroad.
With this publication in the field of translation studies as the sole author with one of the world's top academic publishers, associate professor Huang Xiaojia of the School of Foreign Studies reapes the rewards not only of witnessing many years of international exploration in translation, but also of the ever-increasing input in scientific research and cultivation of scientific manpower provided by the School of Foreign Studies of South China Normal University.
---
Source from School of Foreign Studies
Translated by Chen Huiqing
Proofread by Edwin Baak
Reviewed by Li Jianru
What to read next: