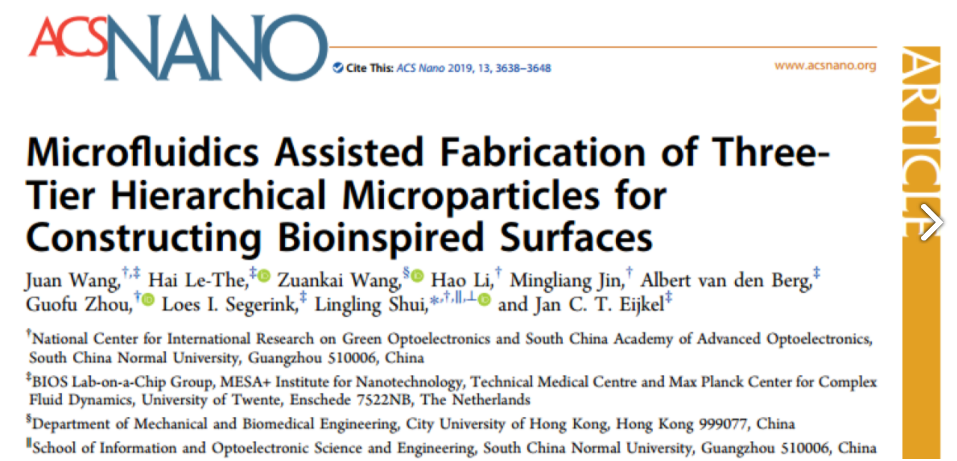 2019-05-31 09:44:01
By SCNU
hits
On March 11, 2019, an article on the results of the research team led by SCNU professor Shui Lingling, was published in the internationally leading academic journal ACS Nano with an SCI impact factor of 13.709. The article was entitled: Microfluidics Assisted Fabrication of Three-Tier Hierarchical Microparticles for Constructing Bioinspired Surfaces. It describes a major breakthrough in the field of using a facile droplet microfluidics approach to fabricate a size-controlled and multi-tier hierarchical micro-nano structural material.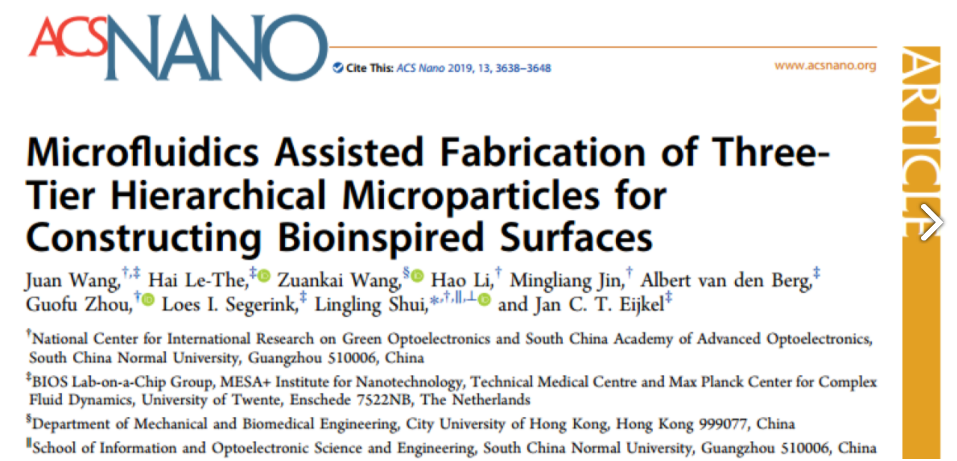 SCNU Professor Shui Lingling is the corresponding author of this article, and her Ph.D student Wang Juan is the first author. Wang studies at the SCNU Joint Laboratory of Optofluidic Technology and Systems (LOTS). She is enrolled in the combined training mode of SCNU and Twente University, and her co-advisor is Professor Jan C.T. Eijkel of Twente University, in the Netherlands.
Here follows a brief introduction to the research. In their work, the research team reports a method for rapid fabrication of three-tier hierarchical micro-units (structures consisting of multiple levels) using a facile droplet microfluidics approach. These units include the first-tier microspheres consisting of the second-tier close-packed polystyrene (PS) nanoparticles decorated with the third-tier elegant polymer nanowrinkles. These nanowrinkles on the PS nanoparticles are formed according to the interfacial instability induced by gradient photopolymerization of N-isopropylacrylamide (NIPAM) monomers. The formation process and topologies of nanowrinkles can be regulated by the photopolymerization process and the fraction of carboxylic groups on the PS nanoparticle surface. Such a hierarchical microsphere mimics individual units of bioinspired surfaces. Therefore, the surfaces from self-assembly of these fabricated two-tier and three-tier hierarchical microunits collectively exhibit "gecko" and "rose petal" wetting states, with the micro-and nanoscale structures amplifying the initial hydrophobicity but still being highly adhesive to water.
This approach offers promising advantages of high-yield fabrication, precise control over the size and component of the microspheres, and integration of microfluidic droplet generation, colloidal nanoparticle self-assembly, and interfacial polymerization-induced nanowrinkles in a straightforward manner.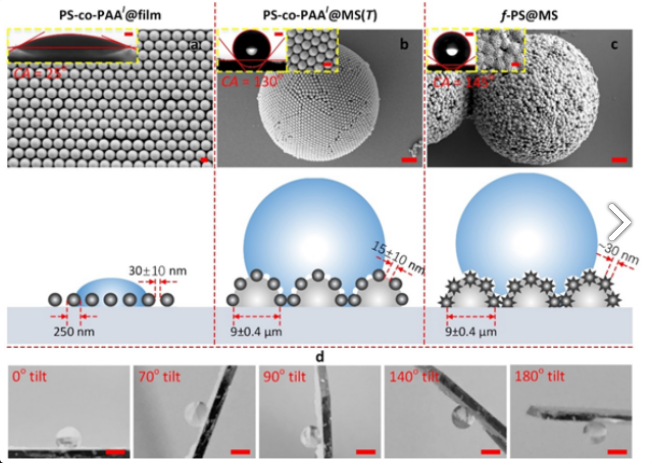 ---
Source from the South China Academy of Advanced Optoelectronics

Translated by Huang Mengxiao
Proofread by Edwin Baak
Reviewed by Li Jianru
What to read next: